Qualcomm Snapdragon for smartwatches update finally coming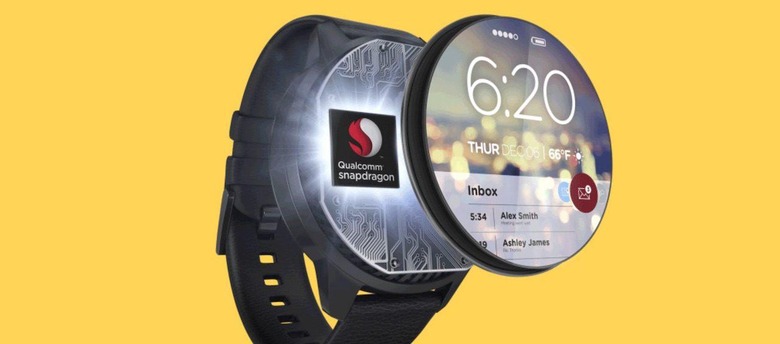 Smartwatches come in all shapes and sizes but most of them have one thing in common: woefully outdated hardware. This is specially true with wearables bearing Google's Wear OS, formerly known as Android Wear, which mostly run on the Qualcomm Snapdragon Wear 2100. Even when it launched way back in 2016, the chipset was already unremarkable. Fortunately for wearable fans, Qualcomm, unlike Intel, isn't yet quitting the market and is preparing a third gen wearable system-on-chip that could give Wear OS smartwatches an edge over their rivals, particularly the Apple Watch.
The very first Qualcomm processor used in smartwatches was simply a modified Snapdragon 400, the very same one used in lower mid-range smartphones, just slimmed down a bit. The Snapdragon Wear 2100 was its first dedicated wearable platform but wasn't exactly a huge step forward. It simply optimized the packaging, slimmed down the sensors and the software. And that's what smartwatches were stuck with for almost two years now.
The next, third gen chip will be different, promises Pankaj Kedia, company senior director for wearables. There will be a reduction in size, surely. The 28 nm Snapdragon Wear 2100 is gigantic by today's standards, forcing smartwatches to be a certain size that has unsuccessfully appealed to many users. It will also standardize some features. All configurations will have Bluetooth and Wi-Fi, naturally, while fitness-centric ones will have GPS. Others will most likely also have LTE connectivity, one of Qualcomm's forte.
But perhaps more importantly, Qualcomm is promising to fix one of the biggest complaints about full display smartwatches: battery life. Kedia says the next chip will deliver longer uptimes, even while display fancy designs while the device remains unused. If the chip maker and smartwatch makers will be able to deliver on this promise, it would give Wear OS a clear lead over other wearable devices.
That's not going to happen until this Fall, though. That's when Qualcomm will launch its new wearable chip, alongside a new flagship smartwatch. Whether that will improve the chances of the smartwatch market, however, remains to be seen.
VIA: Wearable