Qualcomm Snapdragon 835 benchmarks produced mixed results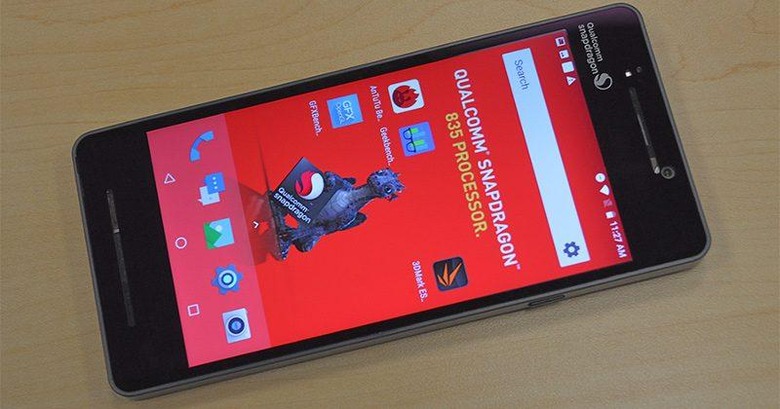 Newer doesn't always mean better. Qualcomm learned that the hard way with the Snapdragon 810, its first new 64-bit processor/platform, notorious for its heat problems. And it might be reminded of that again, though thankfully to a less dangerous degree, with the Snapdragon 835. LG downplayed the advantages of the chip over the Snapdragon 821 it chose for the LG G6, and it seems there was actual basis for that. AnandTech was given some exclusive time to benchmark the Snapdragon 835 and, while there were clear improvements, the processor exhibited some rather mixed performance results compared to both its predecessors as well as its peers.
To be clear, the Snapdragon 835 that AnandTech got to test wasn't inside some secret (read: Samsung Galaxy S8) phone. It was in a Mobile Development Platform (MDP) device, a.k.a. a reference device, that was, in truth, an Android phone. That one had 6 GB of RAM and a 5.5-inch 2K display, quite on par with many high-end smartphones these days. The SD835 was pit against last year's Snapdragon 820 and 821, which many new smartphones still bear, as well as Huawei's newest Kirin 960 chip, among other processors in the market.
Based on AnandTech's brief tests, the Snapdragon 835 isn't a clear win. Yes, it mostly performs better than the Snapdragon 821, but there are instances, like single-threaded floating point tests as well as onscreen GPU-based rendering, where it actually fares worse. And in those cases where it does have the upper hand, its lead against the Kirin 960 isn't particularly as wide as you would come to expect.
This might be due to the design of the Snapdragon 835's cores compared to the SD820 and the Kirin 960. It goes back to how Qualcomm has been making its processors for years. In the past, it has been designing its own cores based on ARM's Cortex core designs. That was true particularly with the Krait-based processors all the way up the Snapdragon 805. In its haste to jump on the 64-bit train, however, Qualcomm switched to using off the shelf ARM cores for its Snapdragon 810. The PR mess that followed gave Qualcomm time and motivation to ensure that the succeeding SD820 would go back to its own core design, marketed at Kryo.
Despite the "Kryo 280" name, the Snapdargon 835 is actually half and half. It is the first of the new "Built on ARM Cortex Technology" licensees which takes a base ARM Cortex design and adds limited customizations. These, changes, however, are done by ARM itself and not by the customer. In other words, the Snapdragon 835 is basically a slightly modified "pure" ARM Cortex processor. This could explain why it has little gain over the Kirin 960, which uses unmodified Cortex, and sometimes even performs worse than the real Kryo-based processors.
It should be noted, however, that these are early benchmarks of a processor running on a test device. Real world performance will still vary, depending on the manufacturer using the processor. Whether they will actually be better or worse than these numbers, we'll have to wait and see when the first Snapdragon 835 devices land in the market.
SOURCE: AnandTech