QUALCOMM Snapdragon 800 tipped for production in late May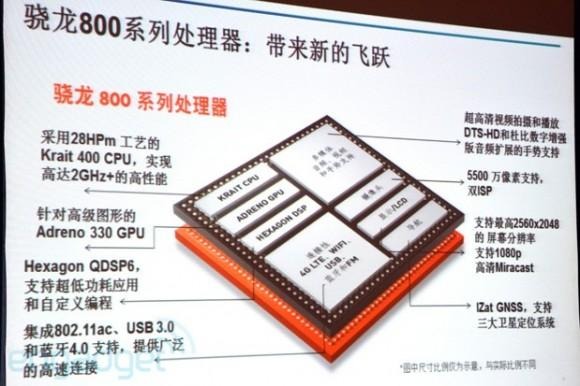 QUALCOMM has certainly been successful with its existing Snapdragon 600 platform. The Snapdragon 600 showed up in a number of high-end smartphones and other devices including the GALAXY S 4, HTC One, and a number of other devices. That Snapdragon 600 success doesn't mean QUALCOMM isn't looking ahead to its next generation high-end SoC.
QUALCOMM senior project manager Yufei Wang was on hand this week at a media event held in Beijing, China. During that event, the project manager confirmed that the Snapdragon 800 would be entering mass production in late May. The project manager was willing to confirm that the Snapdragon 800 was going into mass production, he offered no details on what devices consumers can expect to see the new SoC used in.
QUALCOMM also declined to allow anyone in attendance at the meeting event to run benchmarks on prototype mobile devices using the new 800. However, the manufacturer did indicate that benchmarks will be available in June. Hallmarks of the new Snapdragon 800 include a more powerful Krait 400 architecture allowing the processor operating at up to 2.3 GHz.
The SoC is also built with robust power management capabilities, including the ability to operate the four cores on different core frequencies. That means if you only need one or two cores running at full 2.3 GHz, the other cores can sit idle to save power. Snapdragon 800 also uses a new Adreno 330 graphics processor supporting 30 FPS 4K playback.
[via Engadget]