Qualcomm Snapdragon 800 series quad-core benchmarks
Qualcomm may have introduced the Snapdragon 800 processor a little while back, and while we suspect some may be wondering why we have yet to see any real announcements since that point in time, it seems there was an actual plan in action. Just to give a bit of background, the plan was to announce the goods and then have the parts out ahead of time to give developers time to build. That bit aside, we do have a bit of good news today as we have recently spent some time playing.
But first, we should give some thanks to Qualcomm for inviting us out to San Francisco to do a bit of playing and as a result — we have some benchmarks to share with you. We spent some time playing with the Snapdragon 800 developer kits and we are liking what we saw. The kits included a tablet and smartphone and while they may not be all that pretty on the outside, they are pretty sweet on the inside. Well, the Snapdragon 800 processor is anyway. Basically, what we have seen has left us waiting to see some device announcements.
Up first was the tablet which is sporting an 11.6-inch display at 1920 x 1080. Perhaps more important, the tablet has a quad-core Krait 400 CPU, Adreno 330 GPU and 2GB of RAM. The results are powerful and quite a bit higher than we have seen before. Those looking for the finer details should dive into the gallery at the bottom of the post which has a nice mix of benchmarks from a variety of sources.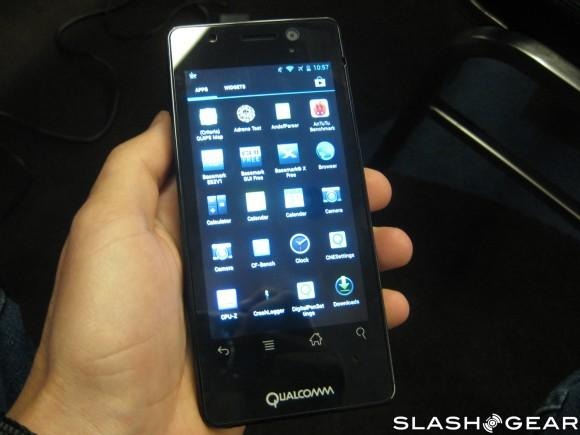 As far as the smartphone goes, this one also has the quad-core Krait 400 CPU with an Adreno 330 GPU and 2GB of RAM. The difference here is in the display, which is 4.3-inches at a resolution of 1280 x 720. Aside from the smaller display, the results were just as impressive to see as from the tablet kit. Once again, feel free to dive into the gallery below to check the scores from your favorite benchmarking application.
Just for a little comparison here, the Snapdragon 600 equipped GALAXY S4 is able to get about 13,000 in Quadrant and the GALAXY S 4 AnTuTu clocks in at 20-22,000. These Snapdragon 800 developer kits are seeing quite a bit more. Of course, while we are excited to see these results, we do have to remind ourselves that this is not the final hardware. Anyway, on with the most important part — the two galleries sitting below.
Snapdragon 800 Tablet Benchmarks
Snapdragon 800 Smartphone Benchmarks