Qualcomm Snapdragon 800 series developer platform hands-on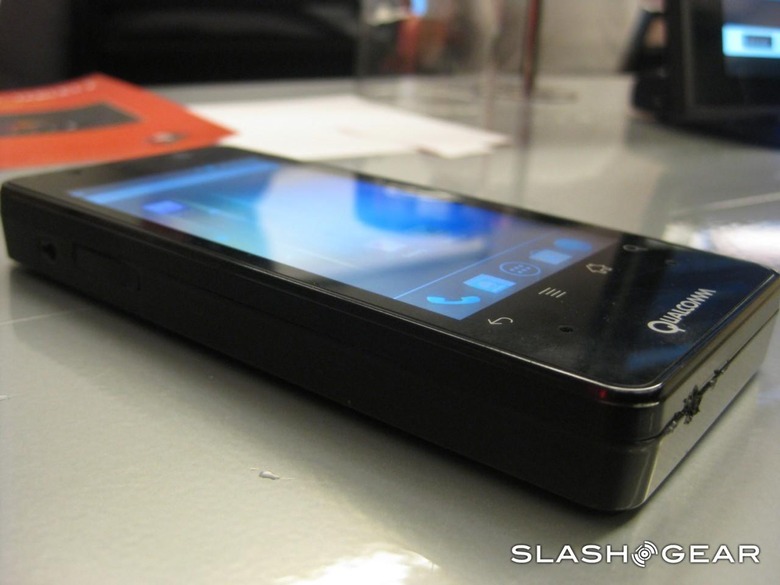 We spent some time benchmarking the Snapdragon 800 series processors and as a result, we were able to play with the MDP (Mobile Developer Platform) devices. Basically, these are the developer devices that are built to show off what these new processors will be able to do. We will say up front that they are not the nicest devices to look at, but that aside, they were able to serve the intended purpose.
Not to mention, the looks are not nearly as important as these are devices that most will never get to see in real life. But with that in mind, we managed to grab quite a few pics of each device so everyone would be able to see just what they looked like. The tablet is an 11.6-inch model and the smartphone is a 4.3-inch model.
The tablet was what we could describe as relatively thin and good looking, but the smartphone was a clunky beast. Of course, while we describe the overall look as being a beast, the same can be said about the way it runs. You can probably get a good idea at the thickness of the smartphone in that image sitting above. With that in mind, make sure you head into the gallery below to see what the rest of the devices looks like.
Next up here is the tablet and as you have probably already noticed from the image sitting below — it is much better looking as compared to the smartphone. But again, these are not going to be available to the general public so there isn't much to worry about. The tablet has an interesting trap door of sorts on the backside along with a pair of speakers in the lower corners. The display size, 11.6-inches was nice to see and not something often found.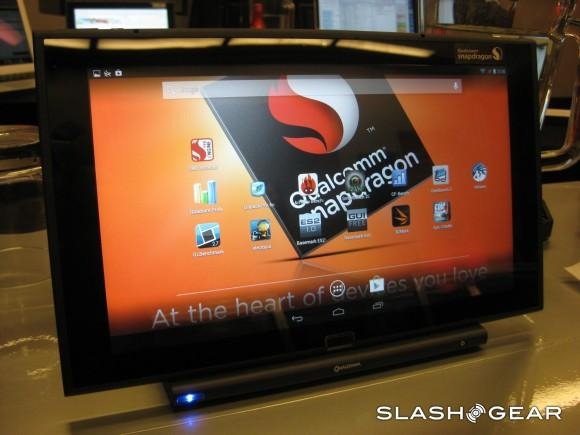 This tablet has a resolution of 1920 x 1080 and Qualcomm has it loaded with the quad-core Krait 400 CPU, Adreno 330 GPU and 2GB of RAM. And for those looking for the remaining specs of this developer reference tablet, there was also 32GB of internal storage, a microSD card slot, 2 megapixel front-facing camera and a 12 megapixel rear-facing camera.
The specs for the smartphone were rather similar with the main difference being the display size. The smartphone display measured in at 4.3-inches with a resolution of 1280 x 720. Another important item to take note of is the Quick Charge 2.0 which means charing up to 65 percent faster — something we suspect most will not be complaining about.
Bottom line here, judging from what we have seen by playing with these devices, we are looking forward to seeing a Snapdragon 800 powered device arrive for purchase. And for those curious, those are still expected to arrive a bit later in the year. In the meantime, the final gallery (sitting below) is for the tablet.