Qualcomm Snapdragon 5G PCs will be supported by 17 carriers around the world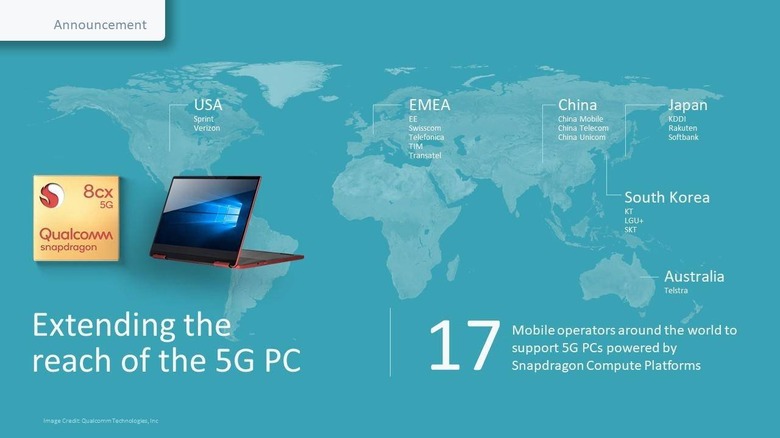 5G is big in mobile but that's not the only place it'll be in, naturally. Desktop and laptop computers are also fair game but only if they have the hardware to slurp from that high-speed network. Most will use external peripherals but Qualcomm is, of course, pushing a new breed of Always On, Always Connected PCs that this year will gain the ability to tap into 5G networks. And to reassure future buyers that they will be getting their money's worth, the chipmaker is listing which network operators will be supporting Snapdragon-powered 5G PCs when they launch this year.
It is amusing that Qualcomm even needs to make a press release about mobile operator support but it's also a very necessary one. Unlike on smartphones where 5G is becoming a standard part of the package, 5G is not only very optional on PCs, it also comes via one of Qualcomm's more controversial processors of late.
Announced way back in late 2018, the Snapdragon 8cx compute platform is supposed to be Qualcomm's challenge to the x86 dominance on laptops and tablets and its fix for the disappointing Snapdragon 850. In other words, it's a platform designed to run Microsoft's Windows 10 on ARM version for more traditional laptops and 2-in-1 tablets. Just like the Snapdragon 855, it is 5G-ready but the X50 5G modem is optional.
More than a year later, devices utilizing that combination have yet to surface but Qualcomm says the first Snapdragon 8cx 5G PCs will finally be hitting markets this year, no month attached. When they do, they will find support from 17 network operators in 115 countries, like Sprint and Verizon in the US. That's a measly number, of course, but not surprising considering the still low adoption of 5G across the world.
The biggest question, however, is whether these devices will actually be worth their salt, especially with the expected price increase from a 5G modem. The Windows on ARM dream continues to remain beyond reach, especially in terms of performance and software support and it's hard to imagine how 5G connectivity will make that any better.