Qualcomm puts SafeSwitch kill switch in Snapdragon 810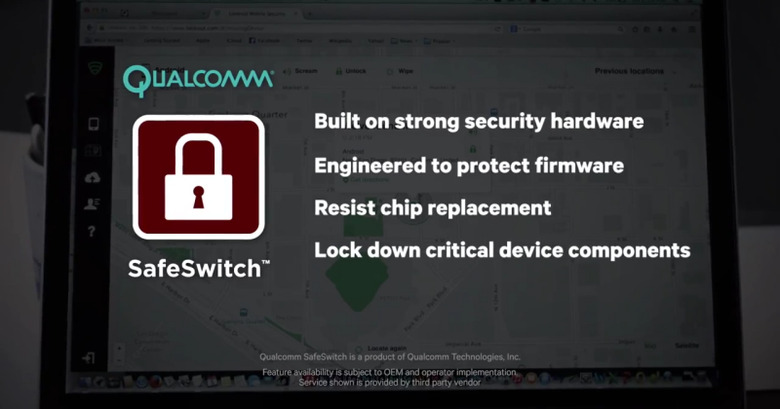 "Kill switch" is the buzz phrase of lawmakers and security enforcers these days, at least when it comes to the issues of smartphone security and theft. Even with some flaws and its fair share of detractors, manufacturers, platform developers, and app developers are scrambling to add some form of the feature into their products. Now even Qualcomm is getting into the game. It is announcing that its own hardware-based SafeSwitch solution will debut on the Snapdragon 810, the chip that is expected to power many high-end mobile devices this year.
Qualcomm unveiled its SafeSwitch plans last September. What makes its security solution different from OS or app kill switches is that the feature is embedded deep inside the hardware, which makes it extremely difficult, if not impossible, to tamper with. You can try to tamper with the hardware, but that in itself has very low success rates and will also be a deterrent in trying to resell a stolen smartphone. Whether it will be a deterrent to theft in the first place, only time will be able to tell.
From an end user perspective, Qualcomm SafeSwitch pretty much offers the same features as many like Apple's Find My iPhone or Android's Device Manager have. This means they will be able to remotely set a passcode, lock down a device, and, as a last resort, wipe the data found on the smartphone. The difference is that these features extend deep down to the hardware level so that a simple wipe of the device will be ineffective. SafeSwitch actually kicks into action at boot even before the operating system starts up, making sure that a locked phone remains locked right then and there.
Of course, this is a two-edged sword which, depending on implementation, might be used against users as well. It's too early to judge it, though, as it still has to hit the market. It might be a stumbling block to tinkerers and modders, especially Android power users, considering how deep in the hardware and software stack it resides.
Qualcomm will provide the hardware and core software to implement SafeSwitch, but integration will still depend on platform makers and smartphone manufacturers. It does look like another strong feature to look forward to in the Snapdragon 810, along with the switch to 64-bit architecture.
SOURCE: Qualcomm