Qualcomm MSM7x30 Smartphone Chipsets Break New Ground In Mobile Web And Multimedia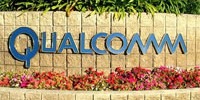 Qualcomm has revealed its latest line of mainstream smartphone chipsets that promise to add gigahertz processing to the average smartphone. The new line is the MSM7x30 family. Products in the line are geared towards multimedia performance with support for HD video recording and playback.
The chipsets also feature 2D and 3D graphics cores for mobile gaming and the chipset is designed for a responsive and immersive web experience on a smartphone. Qualcomm is sampling the chipsets now and expects them to launch commercially before the end of 2010.
One of the first solutions in the family is the MSM7230 for HSPA+ networks and the MSM7630 for multimode HSPA+/EV-DO Rev. B networks. The chipsets use the Scorpion CPU found in the Snapdragon QSD8x50 chipset already on the market. In the new MSM7x30 line, the CPU will run at 1GHz with an ARM v7 instruction set. With the chipset mobile phone cameras can have up to 12MP resolution and the chipsets support Android, WinMO, Brew, and Symbian.