Quad NVIDIA GTX 480 rig: graphics prowess only exceeded by heat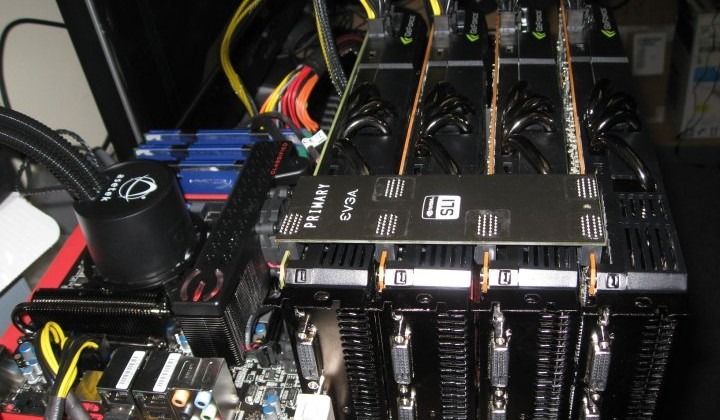 One NVIDIA GTX 480 graphics card is potent; two are impressive and three, in SLI setup, is probably overkill for all but the most avid (and deep pocketed) of gamers.  So, what do you call four GTX 480 boards in a single machine?  CyberPower Inc. have apparently been experimenting with the EVGA GTX 480, showing a new quad-card rig on their Facebook page.
There isn't much in the way of detail beyond the photos themselves, but the setup is based on an EVGA X58 Classified 4-way SLI motherboard.  The $499 'board has a full seven PCIe x16/x8 slots and will take up to four of the company's GTX 400-series video cards.
What we're still left wondering about is any sort of benchmarking figures, together with just how CyberPower plan on cooling the cards.  We're hoping there's a considerable liquid cooling system on its way, since otherwise you could happily roast a small suckling pig above its toasty surface.
[via PCLaunches]