QStarz BT-Q1000X Bluetooth GPS data-logger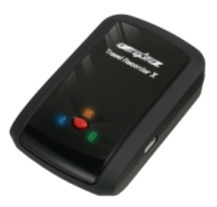 QStarz have announced what they're calling the world's most powerful Bluetooth-enabled GPS data-logger.  The BT-Q1000X uses the latest MTK II high-sensitivity chipset with 66-channel tracking for sub-15s position acquisition, internal memory to log up to 200,000 waypoints and the ability to connect to a smartphone or laptop as a wired or wireless GPS receiver.
Data can be outputted and mapped on Google Earth with the included software, with logging either done automatically or manually triggered via a button on the BT-Q1000X itself.  QStarz claim up to 42hrs use from a single charge, with auto on/off and optional photo geotagging support.
Standard acquisition times are 35s from cold start, 33s from warm start or 1s from hot start; that can be improved by downloading almanac data (A-GPS).  No word on pricing or availability, however.
[via NaviGadget]