QNAP TS-669 Pro TurboNAS Review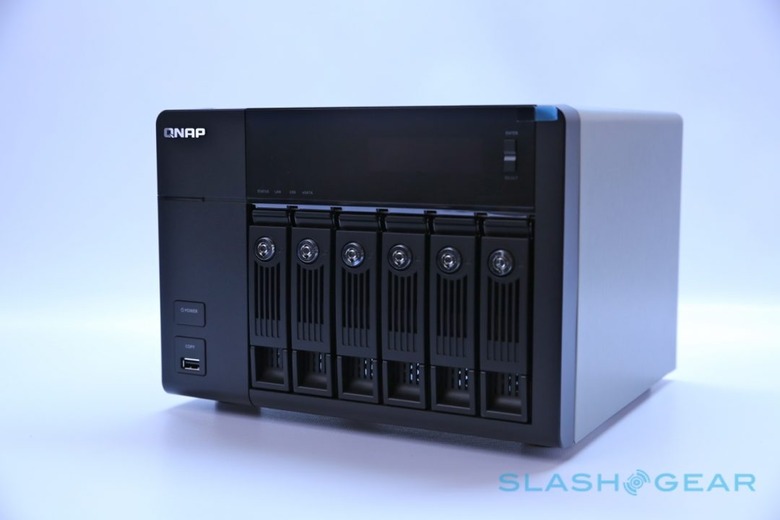 Cloud storage may be the big buzzword of the moment, but what if you'd rather have your storage where you can see it? QNAP has one solution, in the shape of the TS-669 Pro TurboNAS: six-drives-worth of network-attached storage with streaming, remote access and data-redundancy on tap. Everything, in fact, the company thinks a home or small office might require. Is it worth the $1,199.99 sticker price, however? Read on for the full SlashGear review.
Hardware
While consumer NAS units usually try to throw some curves into the mix so as to make the drive arrays more home office friendly, QNAP's no-nonsense approach means the TS-669 Pro is a battleship of a device. Measuring 6.89 x 10.12 x 9.25 inches and constructed from sheet metal and dense plastic, it's sturdy enough that we'd consider putting it under a desk as long as it was reasonably out of the reach of idly-swinging feet.
Up front there are six individual drive bays, each hot-swappable and with a security lock, topped with a two-line LCD to show status and settings; a pair of buttons alongside allow you to navigate through the simple menu structure. Each bay gets status LEDs, and there's a front USB 2.0 port with an instant-copy button for quickly offloading content from an attached drive or memory card (in a USB reader).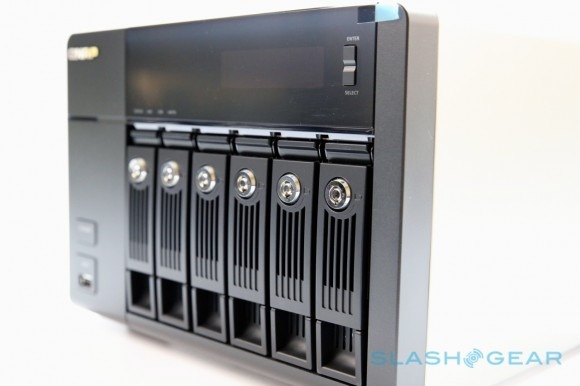 On the back, meanwhile, QNAP gives you more than the average number of ports for a NAS. There are a further four USB 2.0 ports, two USB 3.0 and two eSATA, along with a VGA port that's reserved for maintenance use; two gigabit ethernet ports handle networking duties. You also get a total of three fans, one dedicated to the power supply and the other two 90mm fans for keeping the drives from overheating. In use, there's a noticeable whirr but not a tremendously intrusive one, though it's more suite to the home office, study or workplace than the living room.
Inside, there's a 2.13GHz dual-core Intel Atom processor with 1GB of RAM preinstalled; a single spare SO-DIMM RAM slot will take either 1GB or 2GB chips to take the total to 3GB. That runs QNAP's custom Linux OS, which supports just about every drive spanning and redundancy format you could hope for (Single Disk, JBOD, RAID 0, 1, 5, 5 + Hot Spare, 6, 6 + Hot Spare, 10, 10 + Hot Spare, along with online RAID expansion and use of external drives hanging off the USB and eSATA ports) and is managed through the usual browser-based interface.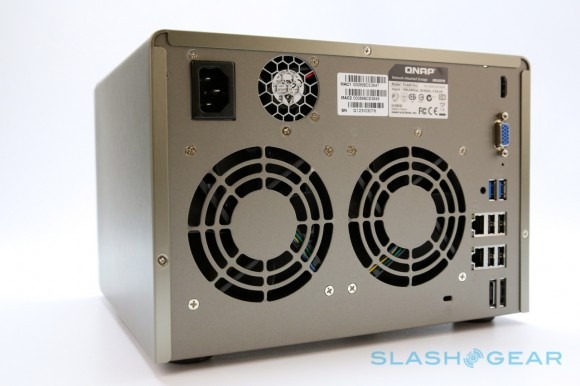 QNAP positions the TS-669 Pro as a NAS suitable for small and home businesses, but there are plenty of media features ideal for home users. Like Synology systems we've reviewed, there's the ability to set it up as a file or FTP server, a backup server for Apple Time Machine or various third-party Windows clients, a webserver, or a standalone BitTorrent downloader. It can also collect video from up to four IP cameras simultaneously, or share up to three USB printers to network clients.
Meanwhile, it will work as an iTunes server or a generic UPnP media server, streaming to mobile devices, smart TVs and other hardware, and if you plug in a USB soundcard or speakers you can use the TS-669 Pro as a standalone music jukebox. It will serve up photo galleries and sync them to Facebook, Blogger and other sites, as well as stream them remotely to the iOS and Android QMobile apps. It's also open to official and third-party extensions, which will turn the NAS into anything from a SqueezeBox server for home media streaming, an Asterisk VoIP system, or a WordPress host.
Performance
All of that functionality would be for nothing if the TS-669 Pro couldn't keep up with network traffic. We used six 1TB Western Digital Black 7200rpm 1TB drives with SATA 6 Gb/s interfaces and 64MB of cache, set up in a RAID 10 array. The QNAP was connected to a 1Gbps ethernet switch; we tested with a Windows 7 PC using SAMBA, also with a gigabit ethernet connection, and then with an OS X Lion Mac, using FTP (since SAMBA is not natively supported in OS X).
On the PC, using 4GB files, we saw read speeds of 178 MB/sec and write speeds of 138 MB/sec. On the Mac, again using 4GB files, we managed 211 MB/sec read speeds and 206 MB/sec writes. Those numbers, under OS X at least, are impressively close to QNAP's own figures, and were certainly sufficient to run backups (either using Apple's own Time Machine or the supplied copy of QNAP NetBak Replicator for Windows) in the background in short-order.
As for the remote access apps, we tried QNAP's software for iPhone and Android, and were quickly accessing files and media stored on the TS-669 Pro. Obviously the experience depended significantly on the speed of our mobile connection and the upload speed available to the QNAP itself.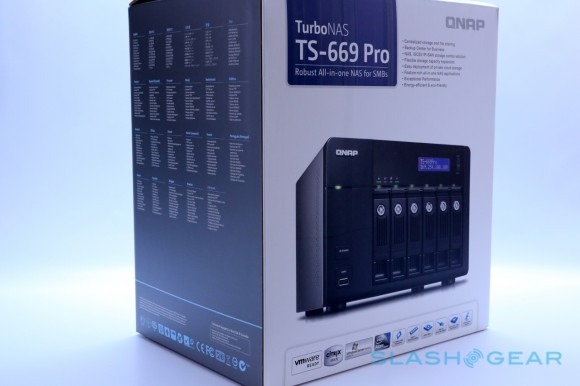 Wrap-Up
With street prices hovering around the $1,000 mark, the TS-669 Pro TurboNAS isn't cheap, and you'll need to factor in the cost of drives, too. It would certainly pay for a whole lot of cloud storage, if sheer terabytes are your primary concern. What most cloud storage doesn't give you, however, is the flexibility that the QNAP offers.
For home users, there's a huge breadth of media options, everything from simply using the TS-669 Pro as a hub for your photos, music and video, to DLNA streaming to an Xbox or PlayStation, phone or tablet, or as the centerpiece of a Sonos or Squeezebox multi-room audio setup. The Android and iOS apps are neatly designed and functional, and with none of the time consuming uploading of music and video that cloud locker services demand, we were up and running in no time at all.
For businesses, meanwhile, there's the promise of speed and the convenience of a huge amount of flexibility in what the TS-669 Pro can be for you. Need a solid backup box with redundancy? With six 1TB drives we had a 3TB RAID10 array with high levels of both redundancy and performance. Need an FTP server, or an email server, or a printer server, or a VPN server? The QNAP will do it all, simultaneously, as well as monitor your IP webcams and more.
Flexibility costs, as does knowing exactly what drives are being used to maintain your backup. The convenience of the cloud is great, but if you want a pro-level data storage and sharing system and you take backup seriously, the QNAP TS-669 Pro TurboNAS should be on your shortlist.