QNAP NMP-1000P network media player offers vast format support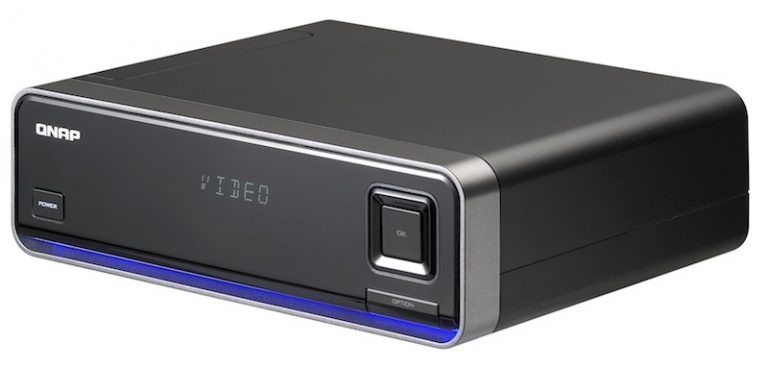 QNAP has outed its latest network media player, the NMP-1000P, a compact STB that offers Full HD 1080p video, Dolby and DTS digital surround sound, optional NAS functionality and internet media streaming.  Able to gobble up a 3.5-inch hard-drive in its internal bay – either for storing local content or acting as a backup drive for networked computers – the NMP-1000P uses Sigma Designs new 667MHz SMP8643 SoC video/audio decoder.
That means it's capable of handling MPEG1, MPEG2, MPEG4, XVID, H.264, H.263, WMV9 and VC1 encoded media in a vast number of different container formats (AVI, MPEG/MPG, VCD (ISO, MPG, NRG), DVD (VOB, IFO, ISO, NRG), WMV, ASF, TP, TS, TRP, M1V, M2V, M4V, M2P, M2T, M2TS, BDMV/ BD ISO, MTS, MOV, MP4, RMP4, MKV, MOD and 3GP), which is before you get to the various image and audio file types supported.  Then there's the online media support, including Flickr and Picasa photos, Apple movie trailers, Internet radio, Mediafly and weather forecasts; you can also use the NMP-1000P as a standalone BitTorrent downloader.
Connectivity includes ethernet (wireless is optional), two USB 2.0 host (for hooking up external storage, optical drives or even keyboard/mouse peripherals), a USB 2.0 device port (for treating the QNAP as an external drive), two eSATA (one Host, one Device), HDMI v1.3a, component (Y, Pb, Pr), composite, analog stereo out and an S/PDIF optical port.  No word on pricing or availability.
Press Release:
QNAP New NMP-1000P Delivers Digital Home Experience with Premium-quality Video, Audio, and the Ease of File Sharing and Backup Capabilities

New NMP-1000P Networked Player with High Performance Wolfson Stereo DAC is Ideal for Audio and Video Enthusiasts Looking to Playback Wide Range of Multimedia Content while Enjoying the Crisp 1080p Videos and Dolby® and DTS Multi-Channel Surround Sound in Addition to the NAS Features and Internet Media Streaming Capability.

Taipei, Taiwan, September 2010 – QNAP Systems, Inc., a leading manufacturer of world class NAS servers, NVR Video Surveillance Systems, and Network-based Media Players today announced the NMP-1000P Network Multimedia Player, a unique new product for audiophiles and AV enthusiasts. NMP-1000P features the latest Sigma Designs® video/audio decoder that is capable of displaying ultra realistic full HD movies with advanced menu navigation, crystal clear next-generation Dolby® and DTS multi-channel surround sound, high-quality lossless music, digital pictures with background music, and other multimedia content. NMP-1000P is also powered by a high performance Wolfson stereo digital to analog converter for truly outstanding audio experience.

What's more, the intuitive user interface of NMP-1000P makes it a snap to download movie covers and related information, and to discover and catalog content from any connected storage device or network drives. NMP-1000P retains Turbo NAS functionality for backup of all networked computers, convenient cross-platform file sharing among Windows, Mac, and Linux/UNIX, multiple user accounts and access right management, and remotely access to media files with the built-in Web File Manager and FTP. NMP-1000P even streams thousands of TV shows, news, podcasts, music, photos, and other content from Mediafly™, Apple Movie Trailers, CNN, SHOUTcast, Internet radio service, Flickr, Picasa, and more.

"NMP-1000P is truly the missing piece in today's digital homes for enjoying premium-quality picture and sound," said Jason Hsu, Product Manager of QNAP Systems, Inc. "Today's users demand that contents be available on the fly and they don't want to deal with a multitude of different devices and interfaces to make it happen. NMP-1000P is the culmination of QNAP's extensive experience in developing network appliances and software applications which can satisfy the consumers' need to get the content they want from virtually any source, and play it with the best video and audio quality on the living room TV using a single networked device."

NMP-1000P can be connected to a home network via wired or wireless 802.11b/g/n (a variety of compatible wireless USB adaptors are sold separately) network connection. NMP-1000P can host a user-supplied 3.5-inch SATA hard drive with up to 2TB capacity for local content storage plus hi-speed USB and eSATA external connections for storage expansion, as well as directly connected to PC via USB and eSATA for fast data transfer, all within a sleek compact set-top box with a remote control and friendly user interface for easy navigation.