Qmadix Q-i-sound Bluetooth speakers for audio and hands-free calling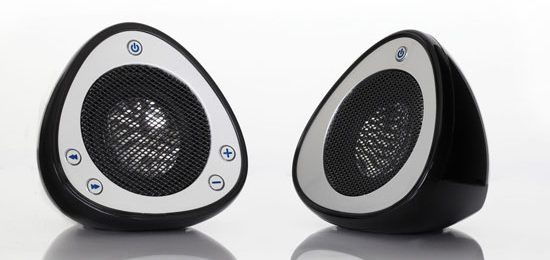 Wireless speakers are fantastic for hooking to your notebook or smartphone to improve the quality of your music and sound from your movies without cables. Bluetooth is especially helpful when on the road or outside too. Qmadix has a new set of Bluetooth speakers to make your audio sound better and to allow you to make hands-free calls.
The speakers are called the iharmonix Q-i-sound Wireless Bluetooth Speakers, and they are compact and lightweight. The speakers have a full duplex microphone for two way wireless calls using your mobile phone. Inside the speakers is a rechargeable lithium-polymer battery for use outside, and on the go away from outlets.
The battery is good for up to eight hours of audio playback and up to 240 hours on standby. A full recharge the battery takes 3.5 hours. The speakers have a 33-foot range from the device they are paired with and the left and right speakers can be separated by 15-feet and still work. These will ship on April 2 for $139.99.