QLOCKTWO Doesn't Need Numbers To Tell You What Time It Is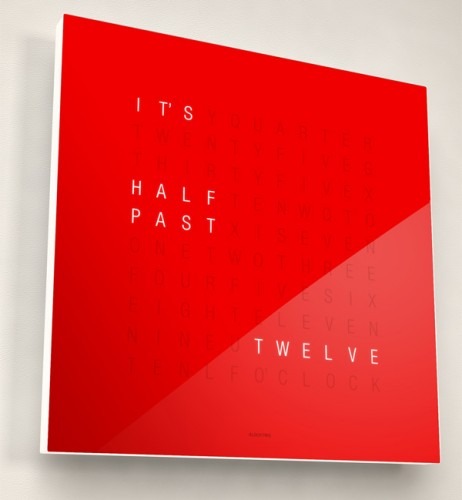 Have you ever looked at a digital clock and thought, "I hate numbers?" Well, if you have or you're just looking or a little bit of a change of pace, then do we have something to show you. It's called the QLOCKTWO, and it's a modern-day great piece of tech. Instead of showing those bland numbers like so many other time pieces around the world, the QLOCKTWO utilizes a stainless steel face to hide away a wooden box that holds LEDs and all sorts of circuitry to get its message across. But there might be some fine details that could sway your decision one way or another, so take a peek.
The QLOCKTWO is designed by Biegert & Funk, and the clock itself is pretty entertaining, if nothing else. By utilizing the LEDs placed behind the stainless steel face, the QLOCKTWO presents the time in words, in a fairly simple way. "IT IS NINE O'CLOCK" and "IT IS TEN PAST SIX." Tiny white dots at the corners of the clock display the individual minutes, and a giant dot-matrix appears with a flick of a switch, displaying the seconds. Plus, if you're spoken language isn't English, then you have a choice of others, like German, Spanish, Italian, Dutch, or French.
The face can also be topped by an acrylic type, and painted. Biegert & Funk are also making the faceplate interchangeable, so that you can have all sorts of colors available to you. Here's the bad news though: it isn't cheap, by any means. The QLOCKTWO will run you $1,565, and the interchangeable face plates will be $136 a pop. Of course, the thing is very attractive and interesting, so if you have some cash to blow, take a shot at it. Or, you can check out the iPhone App (apparently they do have an app for that) for only .99 cents.
[via TechnaBob]