Q2 Designs customizable gadgets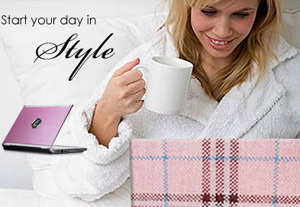 Laptops have slowly become a bit more personalized and a little less visually mundane. Q2 Designs have come out with what they call 'ultimate personal customization'. They can take just about any image and place it on the product of your choice. They also offer just about any color under the sun.
It would definitely be a nice change to place your own artwork on your laptop or iPod. I however would be perfectly happy with the purple Mac they have shown on the site. They also can place ads on the laptops for any corporate guys wanting to get in a bit more advertising. I just couldn't imagine carrying around the Target branded Nano they also have shown.
I tend to think the big ads on the laptops and other gadgets are just a bit over the top. The way the site reads you can not only have them customize one of their products but you can send in the gadgets you already own as well. To give you an idea of pricing, one of the laptops they are selling is a 15.4 inch notebook with a Celeron Processor for $899. It comes in eight different colors.
Q2 Designs Custom Laptops Let You Choose the Color & Cover Design [via chipchick]