Pyle Unveils 10.1-Inch In-Vehicle Entertainment Screen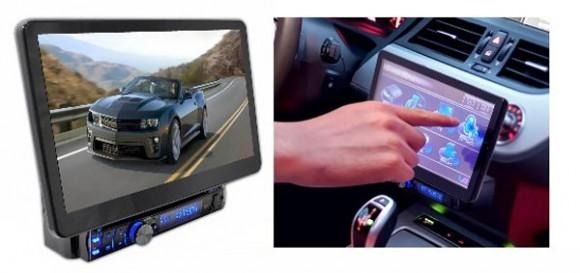 Pyle Audio has announced the launch of a new product designed to bring a large touch screen into your vehicle. The product is a 10.1-inch in-dash touchscreen Bluetooth/DVD receiver. The product carries model number PLD10BT. The 10.1-inch screen is motorized and fully detachable from the front screen panel.
The screen is also adjustable for optimal viewing and is equipped with last position memory so it can spring back to the last preferred position. Integrated Bluetooth technology allows the driver to stream audio directly from their iPhone to the infotainment system. Music streaming is also supported from Android or other devices support Bluetooth.
The entertainment system is compatible with VCD, MPEG4, MP3, DIVX, CD, CD-RW and has an audio/video auxiliary line input jack allowing the connection of other devices. The receiver has a 30-station memory and supports auto store and preset scans for convenience while driving. The device also comes with a wireless remote control allowing the passenger to control all functions including volume, repeat, DVD modes, and other functions.
The big 10.1-inch screen is detachable to make the system less of target for thieves. The 10.1-inch screen has a resolution of 1024 x 600 and a brightness of 400 nits. The Bluetooth connectivity also allows the driver to stream phone call information to the car's audio system. The receiver also supports rearview camera input and the CD/DVD player portion of the system as anti-shock mechanisms to prevent skipping. The 10.1-inch In Dash Touch Screen receiver is available now for $284.99.
[via Pyle Audio]