Pyle Audio Disco Jam "party machine" offers 10" subwoofer and Bluetooth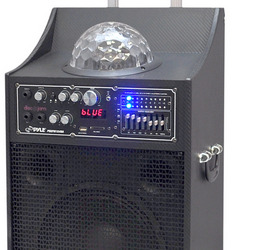 Pyle Audio has introduced its latest audio offering, the Disco Jam Stereo Speaker System, a compact "party machine" that offers, among other things, an integrated disco ball. The setup is on wheels and comes with a handle, making it easy to wheel into a location and remove after the party is over, and is being aimed at — among other consumers — aspiring DJs.
The Disco Jam Stereo system, model PSUFM1049A, is a 600 watt unit offering multiple connectivity options, including standard 3.5mm input, Bluetooth for wireless connectivity, and integrated FM radio with a 2-way PA speaker system for what Pyle Audio calls a "true DJ experience." There are also several microphone inputs for karaoke and such.
In addition to the connectivity options, the Disco Jam also has a USB port in place for changing a mobile device, such as a smartphone. In this instance, one could, for example, plug their smartphone in to stay charged while connecting it to the stereo system via Bluetooth to play music, further enabling the all-in-one mentality behind the system's design.
As far as audio goes, the Disco Jam is equipped with a 10-inch subwoofer, as well as three 5-inch Piezo tweeters. There is a 7-band EQ with an on/off control option. A display screen is available on the front of the device for displaying the content playing, as well as the radio's frequency, song mixing, and more. As mentioned, there is also a disco ball built into the system with an independent on/off switch.
Said Pyle Audio's President Abe Brach, "We wanted to create the perfect disco system for the aspiring DJ. The Disco Jam Stereo Speaker System lets you take the party anywhere with its multiple media connections, Bluetooth compatibility and superior sound." The stereo system is available now for $199.99 USD.