Purported iPhone 6 schematics leaked from supply chain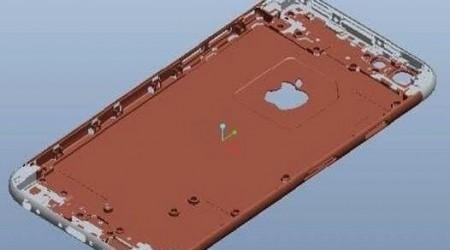 The hotly anticipated iPhone 6 is being "leaked" again, with this latest round promising actual schematics from the supply chain. An unsurprisingly anonymous tipster is saying the shots are pulled directly from somewhere in the long manufacturing chain for an iPhone, and show details of the device from the inside out.
These "schematics" provide quite a bit of visual detail about the alleged device's rear cover. We see what's being sold as the actual design of the case, providing a glimpse from the inside of the rear cover as well as several pics of the outside. The power button has been moved to the right of the device, which could be an effort to improve your handle on the device. That may be a smart move, considering a larger device with the power button on the side is easier to control single-handedly (see various Android devices for reference).
The overall dimensions are 138.14mm x 66.97mm, with a thickness of "5.95" offered up. The thickness seems to be noted as "distance", which we find a bit strange. It's also measured from the center of the schematic, lending a suitable head-nod to the other rumors of the device being curved. If it were curved, it's possible the thickness would be different at various spots on the device.
These schematics look suspiciously like an iPod with the power button cutout moved, which has us second-guessing them. The elongated volume buttons, round flash, and rolled edges are all iPod design cues. We've heard time and again that the newer iPhone would look like the iPod/iPad, though, so while these look suspicious — they may not be.
Fake? Leak? We don't know, and we're not willing to get over excited. The iPhone supply chain is not the most secure information source, but it's also a bit like playing "telephone". These could be home-grown schematics, based on other "leaks" about the new device. With a simple CAD program, these wouldn't be too hard to fake — if you knew how.
What do you think of these pics? Do you think this is the real deal, or another clever iHoax? Let us know in the comments section below, and be sure to check our iPhone 6 hub for all your rumors, leaks, and of course official news when we get it!
Via: Google+