PURE I-10 iPod Dock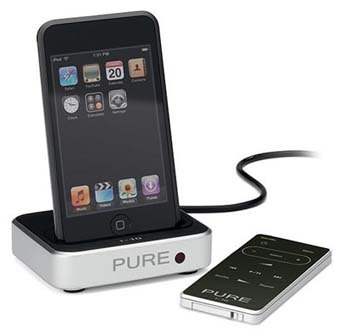 PURE has announced a dock for the iPod and iPhone, which will support the newest additions to Apple's PMP line.  The i-10 iPod Dock is compatible with any PURE product with an auxiliary input, and will also work with other brands of hifi equipment as long as they have a 3.5mm input.
As well as funnelling your music through to the amplifier, the i-10 Dock will charge your iPod or iPhone.  A USB connection lets it function as a regular dock, too, for synchronizing with iTunes on a PC or Mac.  The included infrared remote allows access to all music playback functionality.
No mains supply is seemingly needed for the i-10 to merely act as an audio bridge between your stereo and your iPod, however in that situation the PMP will not be simultaneously recharged.  It will ship in October, with nine dock adapters, priced at £29.99 ($53).
[via Gear Live]