Pulse integrates Facebook, Instagram, Flickr, Tumblr, and YouTube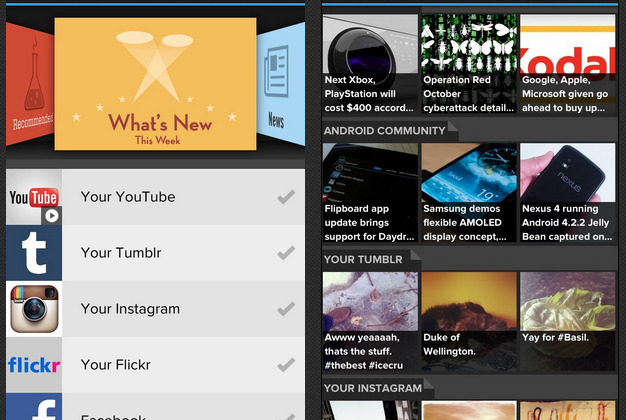 This week the folks at Pulse have opened the floodgates for a variety of social networking feeds into their already well-established visual user interface for news consumption. This update takes Pulse up to the next level of all-encompassing integration with each of the systems you work with on the daily. This may be the biggest upgrade to Pulse since its original launch back two years ago for iOS (and this update works with Android, too!)
Along with simple pull-in abilities for Facebook, Instagram, Flickr, Tumblr, and YouTube, this version of Pulse adds a whole new video and photo viewing interface. You'll be able to push back basically everything but the essentials – including a simple one-shot interface with the creator of each bit of content. This interface is ever-so-slightly different depending on if you're working with iOS or Android, it keeping a clean face either way.
You'll be able to add your favorite feeds from the new social network affiliations listed by heading to the blue Add Content button at the bottom left of your navigation bar. You'll swipe over to Social or "What's New" and you'll tap the + button to add your favorite feed to a page. When you head back to the page you've added it to, there it'll be!
Pulse will be highlighting key channels from each of the big additions over the next week – and they'll be sure to keep up the fun into the future as well! You'll find SlashGear's YouTube page particularly enticing, and don't forget to Like SlashGear on Facebook so we show up through your newly integrated Facebook feed as well! Pulse is available for Android and iOS right this minute for free – grab it!