Public Intelligence Releases Android Threat Warning From Homeland Security And The FBI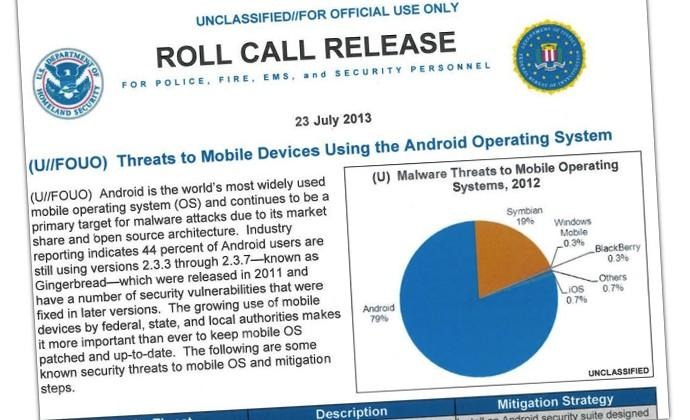 There's a report out there today appearing with the public dissemination of nearly-secret information site Public Intelligence that has the USA-centered Homeland Security organization and FBI showing Android as a threat for Malware nationwide. This report shows that because Android 2.3 Gingerbread it still a widespread operating system, Google's own mobile system is a threat to citizens on a level that deserves attention. That's Android 2.3.3 through 2.3.7, released in 2011, and the government suggests that a change needs to be made.
Assuming this document is completely legitimate – at the moment we cannot 100% verify the report as such – there are three major security threats to Android devices using Gingerbread. These threats are SMS (Text Message) Trojans, Rootkits, and Fake Google Play Domains. The fixes for and avoidance of these bits and pieces should be relatively easy – and if you're the average Android user, you'll likely have already protected yourself in one way or another.
The reason this report was sent out is to protect those members of the police, fire, EMS, and security forces within the release circle of Homeland Security and the FBI. As such, the recommended fixes for the malware threats are simple enough for anyone to follow – downloading Android security suites to stop the SMS threat, working with the Carrier IQ Test able to remove Rootkits, and installing only approved applications – those approved by the organizations with which the worker works with – and (as you may have guessed) only downloading apps from Google Play.
Perhaps the most interesting part of this whole release is the "Malware Threats to Mobile Operating Systems" chart which is said – by the paper itself – to have been prepared by the Office of Intelligence and Analysis, Cyber Intelligence Analysis Division, and National Protection and Programs Directorate, US Computer Emergency Readiness Team. This chart shows Android to hold 79% of the threat chart while Symbian holds the other 19%.
This chart does not show – and so we must assume – what part of the world it covers, what these percentages mean in the first place, or to what the whole chart is attributed in general. It does, on the other hand, paint the so-called "Windows Mobile", BlackBerry, and iOS mobile operating systems in a very good light with each of them ringing in with less than a percentage point on the chart. This PDF file can be found in full at Public Intelligence.