PUBG Xbox One S bundle solidifies phenomenon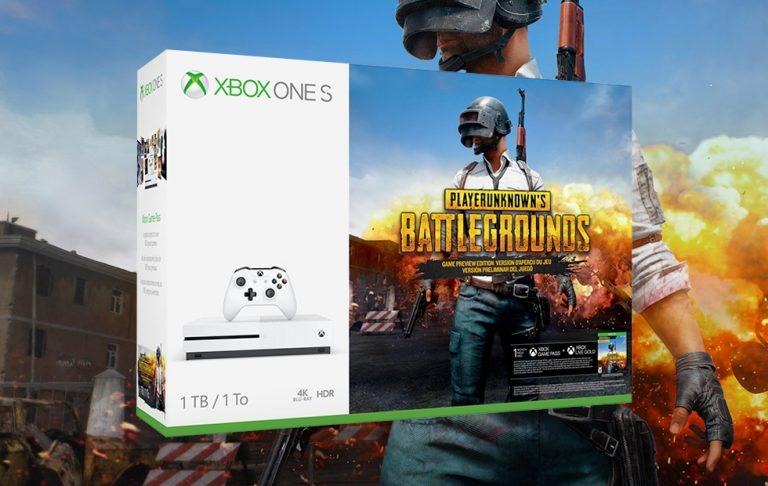 The surprise rise and popularity of "PlayerUnknown's Battlegrounds" now has a place in history as Microsoft gave the game its own Xbox One S bundle. The game's become so popular that Microsoft's gone ahead and integrated the game with the system itself – in the same box, anyway. The game is still a download. Users will get a full download of PlayerUnknown's Battlegrounds with their Xbox One S PlayerUnknown's Battlegrounds Bundle – no disks here!
The bundle before you was announced to get a launch date of February 20th, 2018. It'll be ready to roll in any color users like, so long as its white, and it'll have all the bells and whistles normally included with a standard Xbox One S. This version of the device includes a 14-day Xbox Live Gold trial so that you can become addicted to playing PUBG online – after that, you gotta pay.
This game surpassed 3-million players on Xbox One quite recently, so you know good and well there'll be contenders available when new users log in for the first time. If new users wish, they can also take advantage of a 1-month Xbox Game Pass trial to play "over 100 Xbox One games across three generations of games." This same pass allows users to access games from Microsoft Studios on launch day: Sea of Thieves, State of Decay 2 and Crackdown 3 are three examples of games in this category.
The Xbox One S PlayerUnknown's Battlegrounds Bundle will be made available for approximately $300 USD. Pre-order for this bundle begins today, and it'll be available in most places Xbox One consoles are sold very, very soon.
TO BE CLEAR: PUBG is a game that's played entirely online. As such, users will need to continue to pay for an Xbox Live Gold membership if they wish to continue playing PUBG. Forever and ever.