Psystar Open(3) launches: more clone, smaller case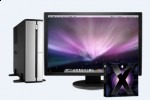 Just because one of the best-known computer companies in the world is trying to crush you in court, doesn't mean you should stop pumping out clone computers using their OS.  Psystar has taken a break from accusing Apple of "stretching" copyright law to launch the Psystar Open(3), a compact mini-tower with a range of core 2 Duo or Core 2 Quad processors, optional NVIDIA GeForce 9500GT graphics and, of course, Apple OS X.
The "smaller, faster and sexier" mini-tower starts out with a 2.8GHz Core 2 Duo E7400 CPU, 500GB SATA hard-drive, 2GB of memory and GeForce 8400GS 256MB graphics.  That can be boosted up to a 2.53GHz Core 2 Quad processor, twin 1TB drives, 4GB of RAM and the snappy NVIDIA 9500GT, together with Blu-ray burner and WiFi draft-n.
Pricing starts from $599 but can get perilously near to $2,000 if you choose enough of the upgrades.  Psystar have also updated their rackmounted OpenPro, with new RAID functionality, 1TB of standard storage (4TB max) and a free upgrade to 8GB of RAM, starting from $1,154.99.
[via Pocket-lint]