Psyko Audio 5.1 PC Gaming Headset Promises Perpetual Sweet-Spot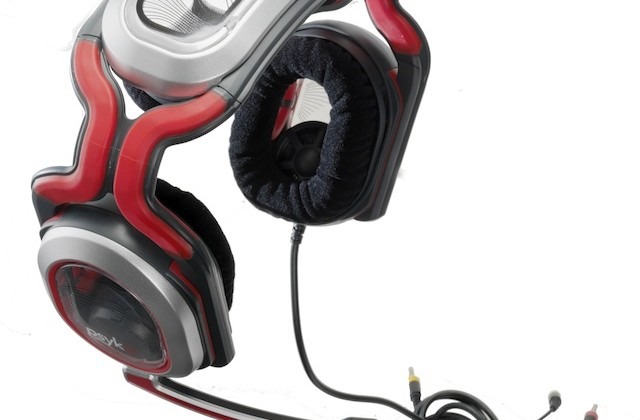 When your company is called Psyko Audio Labs then we guess you have to fill your press release with threatening phrases like "Psyko ushers in the dawn of audio as a weapon", but frankly we'd be happy if the distinctive Psyko 5.1 PC Gaming Headset System sounds as good as they promise.  The magic, they reckon, is in the five speakers integrated into the headband – front left, center, front right, rear left and rear right – together with a subwoofer in each earphone, which basically create a miniature surround sound gaming environment around your head.
Video demo after the cut
Because you're wearing the speakers you're always in the sweet-spot for the best surround effect, and there are closable flaps on each earphone to let you switch between open and closed cups.  In the box there's a removable microphone boom together with a 5.1 channel headphone amp.
End result, Psyko say, is a system which better delivers precise surround sound effects to where you want them to go, adding up to a more immersive, accurate gaming experience.  That's a good thing, as for $299.99 it's about the same price as a regular entry-level big box surround sound system.
Press Release:
Psyko Audio Labs Announces the Immediate Availability of Psyko 5.1 PC Gaming Headset System to USA and Canada

Revolutionary PsykoWave 5.1 surround sound technology delivers a new layer of gaming immersion with precise 3D sound, instant positional awareness, and improved reaction times and kill ratios

Psyko ushers in the Dawn of Audio as a Weapon

Calgary, Alberta – April 22, 2010 – Psyko Audio Labs Inc., a leading innovator in PC Gaming headphone technology, is ecstatic to unleash the dawn of audio as a weapon through the immediate availability of the highly anticipated Psyko 5.1 PC Gaming Headset System to USA and Canada. Psyko's patented PsykoWave Technology empowers PC Gamers with an unfair advantage over the competition through precise 3D sound that drastically heightens awareness of your gaming surroundings. Players can instantly identify and locate every gun shot, footstep, and explosion allowing for faster reaction times, higher player performance, and the most immersive gaming experience to date.

"Psyko 5.1 completely rethinks conventional headphone design and puts PC gamers directly in the sweet spot of a 5.1 room" remarks James Hildebrandt, CEO of Psyko Audio Labs. "You get natural surround sound with no latency, no simulation, and no hassles. This technology will completely shift the current landscape of gaming audio and usher in a new era of fully immersive gaming where audio is now a deadly weapon."

The Psyko 5.1 PC Gaming Headset System is now available for $299.99 in the USA and Canada at major online stores such as Tigerdirect, Newegg, CompSource, and more, as well as in retail shops such as Frys Electronics. For additional information and a brief video demonstration, go to http://www.psykoaudio.com/

PsykoWave Technology – Psyko headphones deliver true 5.1 sound from 5 speakers strategically placed in the headband. The sound is channeled and flows to each ear in a natural way which allows everyone to enjoy true 5.1 sound.

o The headphone bridge houses 5 audio speakers (front left, center, front right, rear left and rear right) with a subwoofer in each ear cup for a total of 7 speakers.

o Sounds from each speaker carry throughout the Wave guides to pass over the front and back of both ears, giving users natural, not simulated, surround sound. For a demonstrational video on how this works, click HERE.

o Precise Simplicity – Another significant advantage to gamers is the simplicity and accuracy of speaker setup. Rather than the normal compromises in speaker positioning typical to 5.1 room systems, the speakers are in exactly the right spot automatically. You literally just put them on and you are in the optimal "sweet spot" of the 5.1 surround sound experience. Gamers often hear directional sound more accurately wearing the Psyko 5.1 headphones than they do with their 5.1 room system.

o Optimal Comfort– Psyko 5.1 gives the user control to either block outside sounds, or open the ear cup to vent their ears for cooling and to hear conversation in the room during game play. The headset is fully adjustable and provides maximum cushioning using fabric rather than faux leather or vinyl which gets slippery and itchy with sweat. Marathon gaming sessions have never been so comfortable.

o Psykowave Custom Sound Control – The Psyko 5.1 PC headphone amplifier allows control of the volume and bass levels as well as being the first headphone system to have lights that provide a visual indication of the direction of every sound. These amplifier lights provide a simple way to see if your computer is in stereo mode or using the full 5.1 surround sound mode.

o Removable Microphone – Psyko 5.1 comes with a removable microphone.

Psyko Audio Labs Inc. is a private, Calgary-based consumer electronics company, started in 2007 to revolutionize gaming headphones. Their main product, the Psyko 5.1 PC Gaming Headset with its patent pending PsykoWave technology, helps gamers instantly and accurately hear where everything is around them. Psyko 5.1's natural abilities to create true surround sound provide a significant advantage over the alternative, where all sounds must be pre-processed to simulate directionality. www.psykoaudio.com