PSP Phone Concept, I Think I Like This One The Best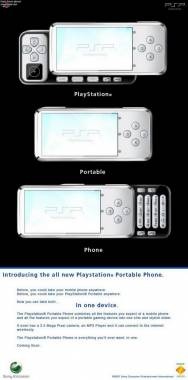 So gamers realize that when cellphone manufacturers try and combine gaming and cell-phones they usually screw it up, so in an effort to push Sony-Ericsson in the right direction, some guy came up with this design for the PSP phone. It maintains the full functionality of the PSP but adds the phone functionality in.
It looks like it's a dual slider that slides up for the phone keypad or at an angle for the PSP controls. Sure, you might lose the UMD slot with this design, but it's on its way out already, so by the time this phone would be released, you should be good to go.
The best part is that instead of trying to build a gaming platform onto some mediocre mobile devices, you'd be taking an already fairly well-developed gaming platform and try and build a phone into it, I have a feeling that it would work a lot better this way. Also, this guy apparently things that a PSP phone would be deservant of a 3.2MP cam on the back and hopefully 3rd or 4th generation WWAN access on top of the WiFi the PSP already has. Sadly, this is just a concept, and not even one from Sony or Sony-Ericsson, but it's a great one, so it probably won't get used.
Sony Ericsson PSP phone should be the dual-sliding device! [via intomobile]