As of this week, Apple has issued a warning for owners and users of a certain set of Apple-brand AC wall plug adapters around the world. While there's likely no immediate danger to you and yours, Apple isn't taking any chances with this program, suggesting that "in very rare cases, the two prong Apple AC wall plug adapters designed for use in Continental Europe, Australia, New Zealand, Korea, Argentina and Brazil may break and create a risk of electrical shock if touched."
SEE: Apple recalls wall adapters made between 2003 and 2015
If you have a plug adapter from the United States, the United Kingdom, China, or Japan, your plug is not affected. If you have a standard Apple USB power adapter – you do not need to worry.
Users with adapters with 4 or 5 characters or no characters on the inside slot where said adapter attaches to an Apple power adapter ARE affected. Those look like the plug above and to the left.
If, instead, your adapter has a 3-letter regional code inside, you're good – that's the redesigned plug. Those look like what you see above and to the right.
Below you'll see the affected adapter prong types. It is from this batch that you'll find the adapter markings as shown above.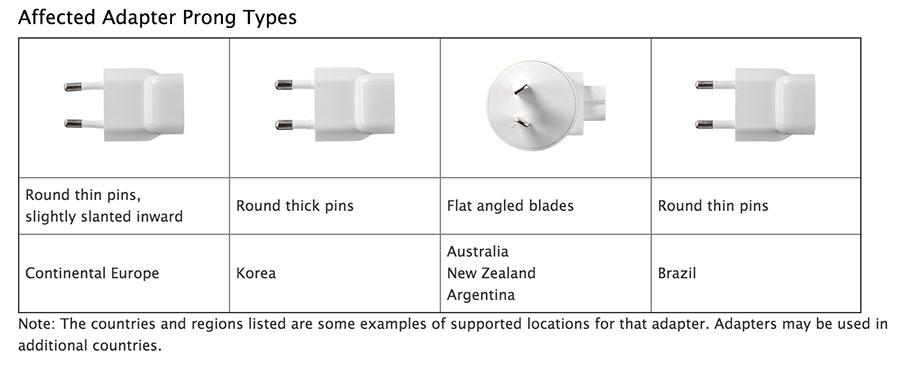 If you have an affected adapter, you'll be able to bring in said adapters to your local Apple Store or an Authorized Apple Service Provider. You can also head in to the adapter exchange website and follow the process.
If you believe you've paid for a replacement due to this issue already, you'll want to contact Apple regarding a refund. You can do this through Apple Support.