PS4 Update 1.75 adds 3D Blu-ray playback - still no DLNA support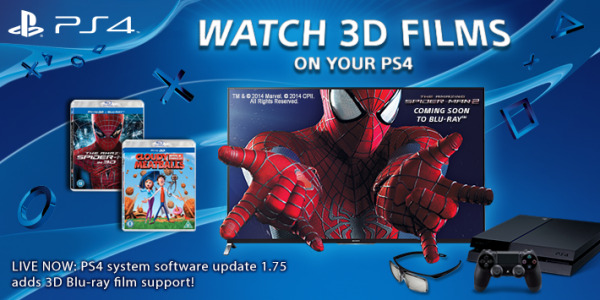 The console war between Nintendo, Sony, and Microsoft isn't only about putting powerful gaming machines in the market but pushing the focus at all-in-one entertainment system. While PS4 games are in Blu-ray format, it was unable to do 3D playback on the newest Sony console – to fix that Sony has made PS4 update 1.75 update available to gamers today. In this latest update, the most notable feature is 3D Blu-ray movie playback support.
PlayStation Europe twitter account announced the release but did not provide full change logs and was very vague about what the update added or fixed. Some reports has indicated Sony will be pushing updates and features that will help the company increase its earning such as integration with Sony's own services.
While I don't have any issues with companies trying to monetize its platform, I am crossing my finger that Sony will still deliver updates that is value-added toward users. One feature that many users like me are still waiting for is DLNA support – which is rumoured to be added in 2015.