PS4 Gold wireless headset is actually black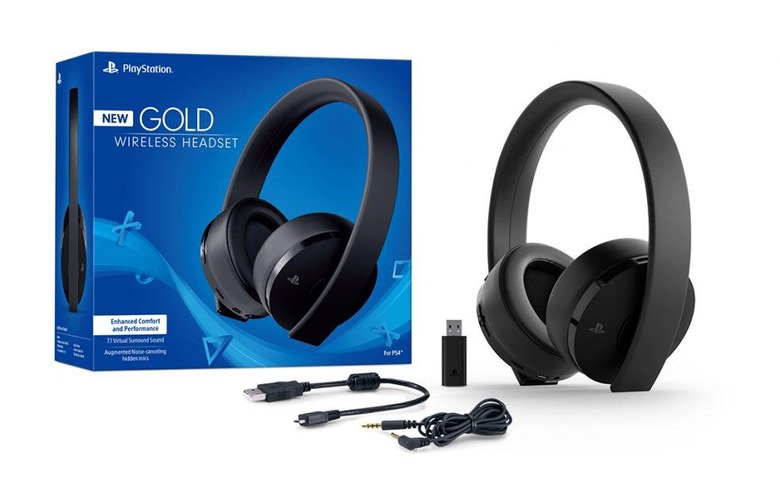 This week the folks at Sony have released their latest in wireless headphone gear with the GOLD Wireless Headset for PS4. This device is a pair of headphones with an extremely simple design and an ever-so-slightly confusing title. They aren't actually gold in color, they're gold in performance – AKA good.
These headphones are indeed wireless, but can be connected with a 3.5mm audio cable – which is included in the box. This Gold Headset is ready to roll with the PlayStation 4, PlayStation 4 Pro, mobile devices of all sorts, and PlaySation VR. In fact Sony suggests that this headset was "designed with PlayStation VT in mind."
OF NOTE: Sony suggests in their press materials for this headset that users of PlayStation VR with this headset should plug in with the 3.5mm headphone wire included in the box. So it's a bit off an oddity, promoting these headphones as wireless when it'll actually be a better experience when they're wired. Unless you plan on using them for multiple purposes – and if so, by all means!
This set of headphones works with 7.1 virtual surround sound. This VSS works to full effect only with games specifically developed to produce 7.1 VSS. Otherwise you'll get the same audio quality as without VSS onboard. Also you can get them in any color you like, so long as it's black – for now. There could be additional colors in the future, we'll see.
This newest of Sony's game-aimed audio headsets is set to cost approximately $100 USD when released soon. Sony suggests that this headset will be released "in the next few weeks" inside the United States. International release is thus far unknown. Have a peek at a few other wireless headphones below for a wider array of options, styles, and real-world uses. Sony's headphones may be made by the company that makes the console, but that does not mean they're the only company that makes headphones well worth the cost of their hardware.