PS3 $100 price cut imminent?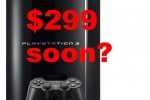 Despite how much we like the Sony's PS3 gaming console with the additional Blu-ray player and world's class built quality; it remains fact that the hardware's sale is falling behind compares to much-cheaper gaming counterparts from Microsoft's Xbox 360 and Nintendo's Wii. With the economy's downturn, experts are predicting price cut is the only option that would probably turn the tide around, but how much is enough for a jumpstart?
An analyst from Wedbush Morgan claimed Sony has little choices but going forward with the prediction, hacking $100 off current PS3 80GB version console to a much affordable $299 price tag, and that announcement is around the corner.
"Recent channel checks indicate increased speculation for a PS3 price cut announcement from Sony in the next couple of days." Said the analyst, and otherwise the hardware will continue to suffer sluggish sale, and likely to turn the 3rd party game developers to other platforms.
If the analyst claim came true, at $300, and with the combine of its upcoming exclusives from Killzone 2, Heavy Rain, MAG, God of War 3 and Uncharted 2; plus the existing Blu-ray player, the PS3 is an easy choice for me. I would probably pick up a second unit.
What's your thought?