PS Vita TV Mini Game Console With Streaming Service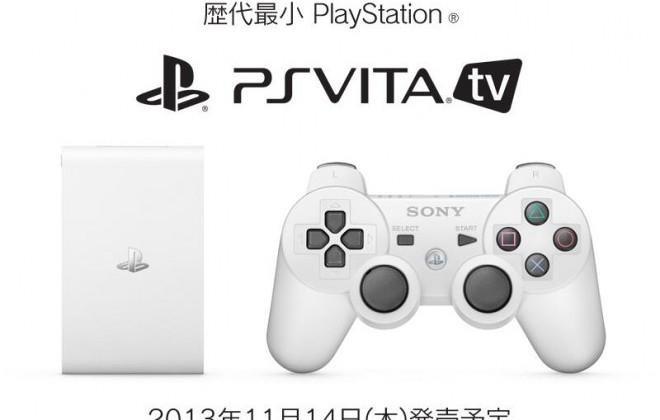 Sony has unveiled a new miniature video game console in Japan called the PS Vita TV. The device is an entertainment system designed to allow users to easily access streaming video services, games, and other types of content on the big screen TV in their home. Sony says that the PS Vita TV use the same chipsets and system software that the PS Vita portable console uses including an ARM cortex A9 CPU and IMG SGX543MP4+ GPU.
The PS Vita TV is the smallest console in the Sony ecosystem that connects to a TV measuring 6.5 cm x 10.5 cm. Supported streaming services in Japan include TSUTAYA TV, niconico, and Hulu. Sony says that in addition to those streaming services, the PS Vita TV is also able to play all PS Vita software titles giving it 1300 video games to enjoy around right now. The console supports network services including e-mail, voice and text chat, and a web browser.
The device also supports the PlayStation Plus membership service. The PS Vita TV is launching first in Japan and will be available on November 14. Sony is pricing the system at ¥9954 including tax. A special PS Vita TV Value Pack will also be offered it ships with the Vita TV console, wireless Dualshock 3 controller (two controllers are supported at a time), and an 8 GB memory card.
That PS Vita TV Value Pack will be available on November 14 for ¥14,994. Buyers of that bundle pack will also get a 90-day trial of the PlayStation Plus service. The PS Vita TV will also support the PS4 remote play and Dualshock 4 wireless controller through a future software update. Sony says that they will allow gamers to enjoy most PS4 games on the PS Vita TV. The PS Vita TV has 1 GB of internal memory and can output video content in 720p, 1080i, and 480p. Full HD resolution isn't supported.
SOURCE: Sony (PDF)