Prophix electric toothbrush has a tiny camera to show you how you clean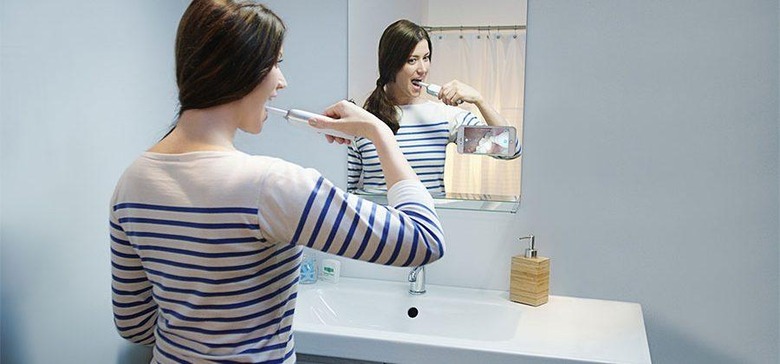 There are plenty of electric toothbrushes on the market today that promise to make cleaning your teeth and oral health more efficient and effective. Some of them connect to your smartphone to give you an idea of how long you should stay in one section of your mouth like the Oral B Genius from early 2016. A new electric toothbrush called the Prophix has a new way to help you be sure that you are cleaning your teeth as efficiently as possible by adding a video camera to the brush.
That video camera allows you to see what is going on in your mouth by synchronizing the live video with your smartphone via Bluetooth and WiFi. The idea is that the live video feed will help you to see spots you missed inside your mouth when you are cleaning. The app can also track progress towards oral health goals and provides motivating tips to help with the brushing routine.
The app required to view the video feed is compatible with the iPhone 6 plus, iPhone 6, iPhone 5S, and iPhone 5. No Android app is available currently, but an Android app is in development. The app is able to take photos and store them to give you a way to compare progress towards goals. The Prophix toothbrush comes with the base charger, brush attachment, Prophy Cup attachment for contour cleaning under the gum line, a rubber tip attachment, and a mirror attachment.
A larger bundle also includes a rubber scaler attacking to see and remove plaque from lower front teeth. The standard bundle is $299 with the larger bundle selling for $324. Both those bundles are priced lower during the pre-order period, underway now in the US. Pre-orders may kick off in other locations in the future. Normal pricing for the standard bundle is $399 with the larger bundle selling for $424.
SOURCE: Phrophix