Project Unity combines 15 game consoles into one cube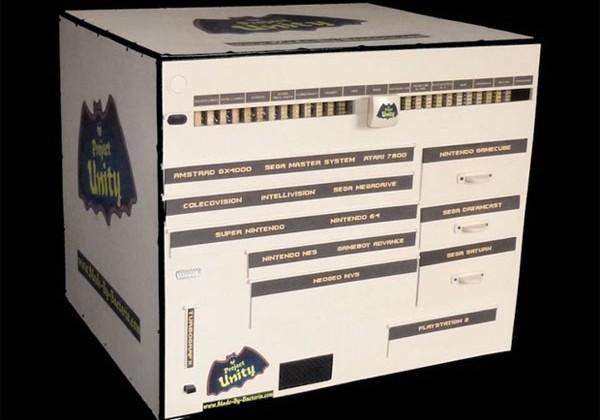 If you're a fan of retro gaming, I bet you have some fond memories of game consoles of years gone by. A hardware modder going by the name Bacteria has created what might be the coolest retro console mod ever. The builder calls his system Project Unity and it wraps 15 old-school game consoles into one large cube.
The 15 different consoles include some of the usual suspects such as the Nintendo 64, PlayStation 2, and GameCube. It also has an older and less well-known consoles including the Amstrad GX4000 and others. Some of the more obscure gaming systems are provided using emulators.
Combining the physical systems and the emulators, Project Unity promises to be able to play games from 18 different consoles. There are a number of different disk drives and cartridge slots on the front of the cube where various cartridges and game discs are inserted. The finished console is as big as it looks.
The console weighs 44 pounds, took three years to produce, and has about $1000 in parts. The controller reportedly features 16 buttons, three joysticks, and a d-pad. Check out the video below to learn more about Project Unity.
[via The Verge]