Project Scorpio official: Xbox One with better everything (and Oculus Rift)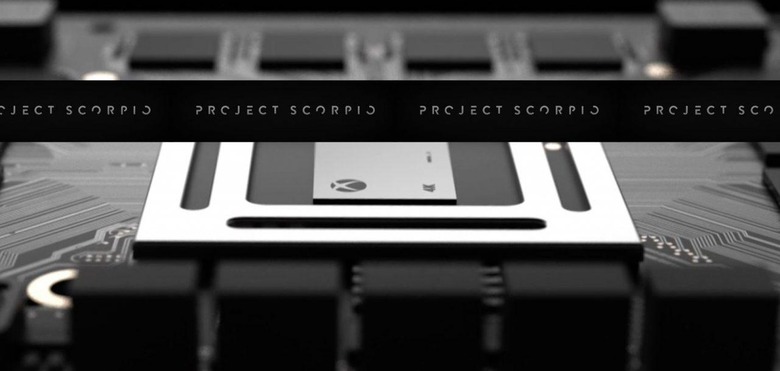 This morning Microsoft introduced us to Project Scorpio, an Xbox console that they suggest will be more powerful than any console that's come before it. Of course, you might be saying, why would it not be more powerful than any console before it? That's true – but they're making a pretty big deal of the fact that they're making a machine that far exceeds the specs of the previous model – and the device they revealed in the interim – the Xbox One S.
In the promotional videos you'll see in the near future (and that we saw at E3 2016 today), you'll hear Microsoft say that they've put "the most powerful graphics processor that's been put into a game console to date." They've revealed that this means they'll be putting in a GPU capable of 6-teraflops of processing power in Project Scorpio.
Or Xbox One X, as it'll probably end up being called.
• 8CPU Cores
• 320GBps memory bandwidth
• 6-teraflops of GPU power
"The highest res, the best frame rate, no compromises," says Microsoft. Again, we would hope so. They've also said "4K gaming" more times than we've seen in every other E3 presentation combined.
"We can render at 60hz, we can render fully uncompressed pixels – these are the highest quality pixels that anybody has seen. And what we're able to do now is bring that to the console player."
*Yes, you're not losing your mind, you are listening to people suggest that they are going to deliver the best pixels you have ever seen.
Perhaps the most interesting bit in the presentation was when a representative from Bethesda suggested that they were "moving Fallout 4 to VR, and to have a console that can support that at the resolution and speed we really want, I think it's gonna be magical."
So this next Xbox will be supporting virtual reality, and by default that means Oculus Rift support. Oculus Rift support on this next Xbox One "next year."
They've also gone on to suggest that this console will be capable of "high fidelity VR."
Also there's no detail yet on how much the box will cost.
UPDATE: In case there was any doubt, this statement comes from AMD on whose processors will be inside Project Scorpio and Xbox One S: "We are proud that Microsoft has chosen to expand their Xbox One family of devices with two new consoles featuring AMD's high-performance semi-custom SoCs that support revolutionary new technologies like HDR, 4K and high fidelity VR to enable the next generation of immersive gaming experiences."