Project One And Electrification Take Center Stage at Frankfurt for Mercedes-Benz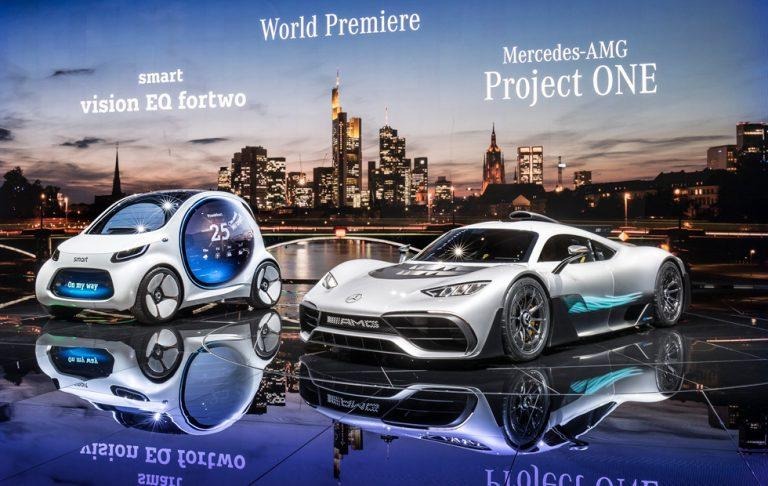 Mercedes-Benz took the Frankfurt Auto Show with both a bang and a whirr as it showcased not just a world-beating Mercedes-AMG Project One 'hypercar' – the brand's first foray into such rarefied air in well over a decade – but also several facets of its electrification strategy, which figures ever more prominently in the plans of all global automakers.
Visually, the Project One combines a number of familiar design elements drawn from both the past pantheon and current sphere of ultra-high performance vehicles. Seen from the front the wide mouth of the AMG-built coupe displays more than a hint of the 90s-era McLaren F1, whereas the rear quarter view and the roof suggest a modern Le Mans Prototype racer, particularly the shark fin stabilizer. Pop open the doors and you are greeted with an unusual sill arrangement that shows just how small the passenger tub is compared to the rest of the automobile.
SEE MORE: This is the Mercedes-AMG Project ONE
Mercedes-AMG did an excellent job keeping the Project One's profile a secret, as there were only a few silhouette images published prior to its Frankfurt unveiling. On the drivetrain side the company was somewhat more forthcoming, advertising that it would feature a hybrid design based around the current six-cylinder engine found in its Petronas Formula One team. The latter has won three consecutive constructor championships for Mercedes-Benz, and the inclusion of four electric motors with the 1.6-liter V6 – two at the front axle, one at the rear (matching the F1 system), and one to spin up the split-turbocharger (which aids in cooling the compressor by divorcing it from the turbine) – allows for it to generate well over 1,000 horsepower.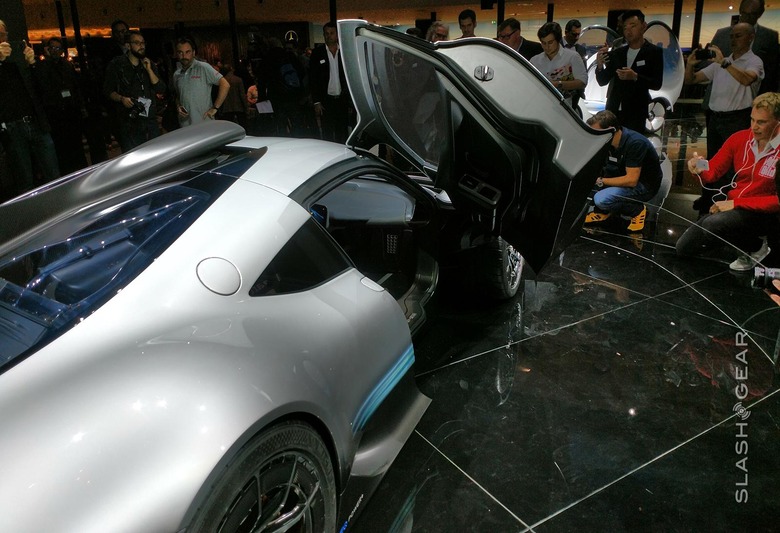 With that kind of grunt available, and all-wheel drive with instant torque vectoring made possible via the individual front electric motors, it's no surprise that Mercedes-AMG is ignoring a 0-60-mph time in favor of a 0-124-mph figure (six seconds). The $2.75 million Project One will be able to crest 217-mph, features an eight-speed automatic manual transmission (with a dual-clutch design not strong enough for the torque load produced by the hybrid drivetrain), and will offer 15 miles of battery range on a full charge.
Mercedes-Benz was quick to caution that the vehicle shown in Frankfurt was a 'concept' that was very close to the roughly 300 already sold out models that will be delivered by the end of 2019, giving the company wiggle room to squeeze past the similarly-bonkers Aston Martin Valkyrie in terms of performance, if necessary.
Less glamorous, but equally on-message for BMW was the introduction of its new hybrid S-Class sedan, the 560e (featuring the 48-volt electrical system that will eventually be making its way through the entire Silver Star line-up), as well as the Concept EQA. The EQA is an all-electric compact hatchback meant to further illustrate the brand's EQ line of electrified vehicles, and while it's unlikely to see production it does offer a glimpse into technologies that should be coming to Mercedes-Benz vehicles within the next few years. Specifically, dual-electric motors (facilitating all-wheel drive), a 10-minute battery charge time for 62 miles of range (with four times that range available in total), and a variety of charging methods encompassing both dedicated stations and induction.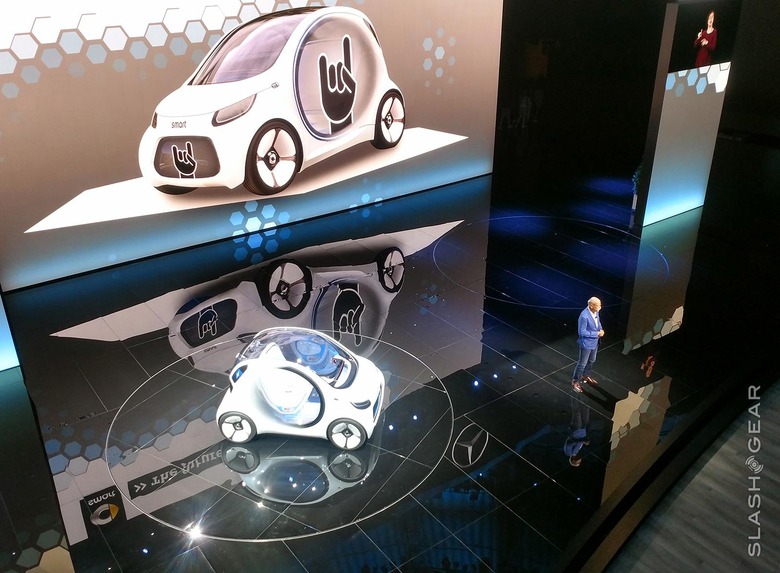 Joining the Concept EQA on stage were two other, somewhat less likely members of the Mercedes-Benz future. A steering wheel-free autonomous driving pod dubbed the Smart Vision EQ Fortwo (similar in design to the Smart Fortwo and associated with the Fortwo's Car2go vehicle sharing service) hinted at a future where urban environments have transformed us all into passengers rather than drivers – and curiously, passengers in vehicles which can only hold two people at a time, which is seemingly a step back from current public transportation designs.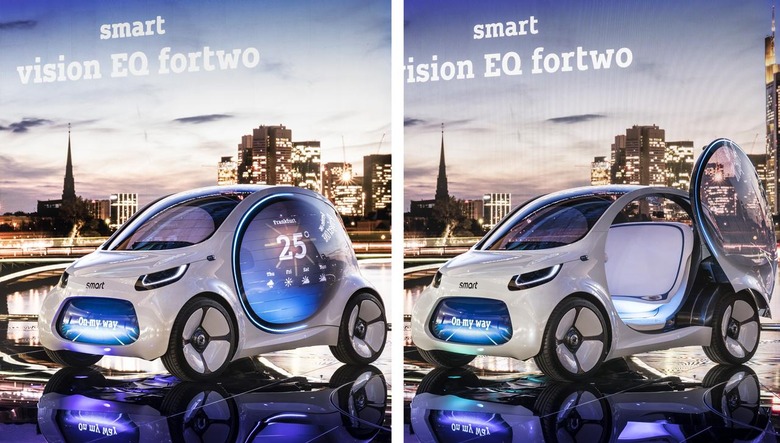 Also shown off was the GLC F-Cell, a hydrogen fuel cell-powered SUV that also offers a rechargeable battery to fill in when it's not possible to top up on its primary energy source. This is an intriguing concept, given that hydrogen fueling stations currently enjoy far less penetration in North America as compared to EV charging systems, but it's important to point out that the lithium-ion battery in the GLC F-Cell will offer just 10 percent of the 275 miles of range delivered by the hydrogen system.
Although 1,000 horsepower hypercars and hydrogen sport-utility vehicles might seem to be an odd combination, each of these automobiles are destined for the showroom floor, and demonstrates that alongside its self-driving Smart car whimsy Mercedes-Benz is very serious about reclaiming its place in both the 200-mph club and the hydrogen economy. The Project One in particular is yet another reminder that the enormous sums invested in the highest levels of motorsports can bear fruit for those of us who don't put a helmet on to go to work in the morning – provided we're multi-millionaires, of course.