Project iPad magazine arrives in App Store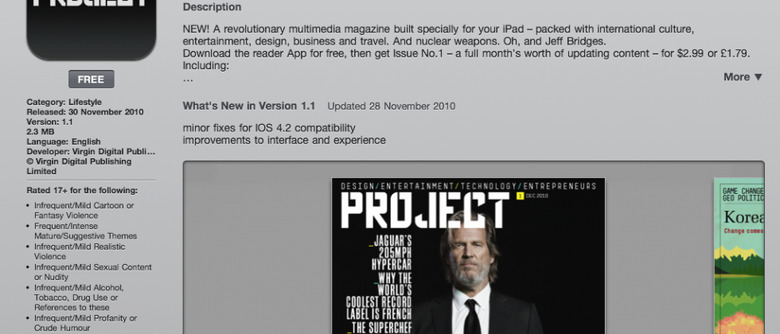 The new Virgin iPad magazine, Project, has arrived in the Apple App Store for download [iTunes link]. As we wrote yesterday, the new app consists of a "reader" viewer – which is a free download – and then a month's worth of updating content, priced at $2.99 or £1.79 depending on location.
That content includes a "Jeff Bridges Reboots Tron" cover feature, a 3D video tour of Tokyo and various other entertainment, travel, business and design articles. Virgin's schtick is that, rather than being a single issue updated monthly like other magazines, Project will gain new content every day.
It remains to be seen whether this approach will find favor among iPad owners; reviews for Project are mixed, though much of the negativity appears to concern the actual app itself, rather than the content. Apple is expected to announce a recurring subscriptions API in December.