Prive gold and diamond encrusted phone is straight from the 80's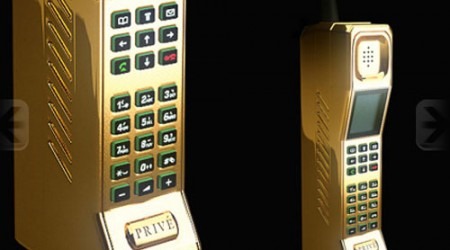 The are some industries where retro works very well. A god example is the auto industry where cars like the Ford Mustang and Chevrolet Camaro remind us of the 60's muscle cars they started out as. In some industries retro just doesn't work, like the gadget industry.
I don't think you will find many mobile phone users willing to carry around a retro phone that looks like one of those massive bricks from the 80's. Fewer still will be willing to shell out £139,995.00 for said phone sporting a 22ct gold shell and diamonds around the LCD.
Stuart Hughes has just such a device though covered in 900 grams of gold and 76 flawless diamonds amounting to 23ct. The device has a color screen, and supports WAP, text, SMS, and more. The device will be limited to only ten versions produced. I bet they don't sell one this thing is ugly.