Privacyscore scans Facebook apps for privacy rating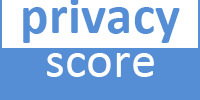 While it may soon be worth a gazillion dollars, there are many out there still scared to death by Facebook and certain privacy issues, not to mention the large numbers of apps and sites across the web that use your Facebook as a passport of sorts. PrivacyChoice is hoping to alleviate such fears, today launching a Privacyscore app for Facebook. The app will let users see which Facebook apps protect their privacy, and which don't.
Jim Brock, PrivacyChoice Founder and CEO, says, "Hundreds of millions of people use Facebook apps every day, sharing personal profile information widely across thousands of app providers.Each app provider has its own privacy policies, which in many cases lack even minimal assurances. Our research also revealed that those apps bring in scores of third-party tracking companies, which in many cases also lack basic protections, choices and oversight."
He goes on to say that Facebook doesn't control or enforce app privacy policies, so if an app that you've authorized is misbehaving, you can't expect Mr. Zuckerberg to come to the rescue. The Privacyscore app, meanwhile, will give each app a 0-100 privacy rating before you authorize its use on Facebook, allowing you to make an informed decision.
PrivacyChoice also published rating results for various Facebook apps, with social gaming company Playdom scoring 93 out of 100. EA were next, with 91 out of 100, landing them an "A" rating. Zynga comes in at 82, while K-Factor Media achieved 72. PrivacyChoice says the average privacy score for all the apps they reviewed was 78 out of 100.
[via PrivacyChoice Blog]