Prisma Cold Brew makes cold brew coffee in 8 minutes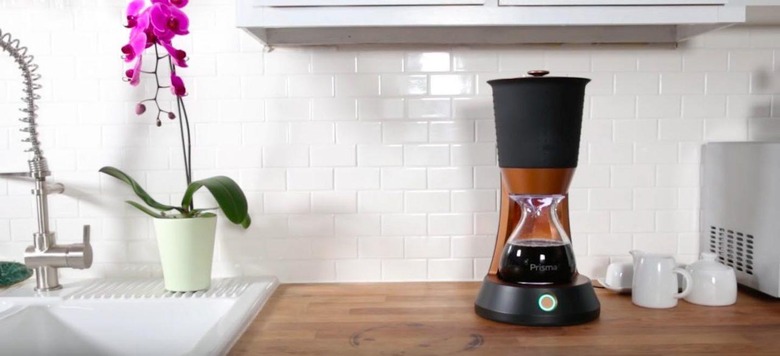 Some people prefer cold brew coffee, saying the flavor is better when the coffee beans haven't been exposed to high temperatures. The problem, however, is that cold brew coffee takes a long time to make — usually 12 or more hours, which means you're going to have to put a lot of foresight and planning into your morning habit. Prisma Cold Brew aims to change this reality; the coffee maker is said to produce cold brew coffee in less than ten minutes, doing so in part using vacuum infusion.
Prism Cold Brew is the brainchild of FirstBuild, a GE Appliances 'co-creation community.' The device is said to use a specialized vacuum infusion process which, not surprisingly, the company doesn't go into too many details about. Users are advised to use freshly roasted and finely ground coffee to get the best results, but your ordinary off-the-shelf bag should work as well.
The coffee maker features a water chamber and a place for the coffee grounds; after both are added, some type of vacuum system pushes the water through the grounds, speeding up the cold brew process and reducing it to about 8 minutes from button press to full carafe. As well, Prisma uses a standard basket filter like the kind found in commercial coffee makers, so there's no need to buy expensive proprietary filters.
Each carafe of coffee comes to about 700ml, or about 24 ounces. The carafe is made of glass, while the entire coffee maker measures 17.5-inches. The super early bird unit is available for a $229 USD pledge, which is $70 off the anticipated retail price. Shipping is estimated to start next month.
SOURCE: Indiegogo