Princeton Review offers top 10 list of game design schools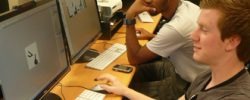 If you're a gamer, there may seem like no cooler collegiate career than studying video game design and programming. What was once an incredibly niche and highly underrepresented major in universities around the country has become one of the most in-demand fields. One of the pioneers in offering such a curriculum, though, the University of Southern California, is still on top.
The Princeton Review creates an annual list of the top 10 undergraduate schools and the top 10 graduate schools to study game design. The organization looks at things like faculty credentials, alumni success, and the rigor of the coursework in the program. It also factors in scholarship and financial aid opportunities. For the 2011-2012 study, it looked at 150 institutions in the United States and Canada.
The University of Southern California gained the top spot in both the undergraduate and the graduate lists. It was one of the first major universities to offer a game design program, and it also has big connections with the industry since it is right in the heart of Los Angeles. The USC campus is just a few minutes' drive to the Los Angeles Convention Center, where the largest video game trade show in the world takes place every year. Here's the complete list of acknowledged institutions:
Top 10 Undergraduate Schools:
* University of Southern California (Los Angeles, CA)
* Massachusetts Institute of Technology (Cambridge, MA)
* University of Utah (Salt Lake City, UT)
* DigiPen Institute of Technology (Redmond, WA)
* The Art Institute of Vancouver (Vancouver, BC)
* Rochester Institute of Technology (Rochester, NY)
* Shawnee State University (Portsmouth, OH)
* Savannah College of Art and Design (Savannah, GA)
* University of New Mexico (Albuquerque, NM)
* Becker College (Worcester, MA)
Top 10 Graduate Schools:
* University of Southern California (Los Angeles, CA)
* Rochester Institute of Technology (Rochester, NY)
* Massachusetts Institute of Technology (Cambridge, MA)
* University of Central Florida (Orlando, FL)
* Southern Methodist University (SMU) (Plano, TX)
* Carnegie Mellon University (Pittsburgh, PA)
* Savannah College of Art and Design (Savannah, GA)
* DigiPen Institute of Technology (Redmond, WA)
* Univ. of California, Santa Cruz (Santa Cruz, CA)
* Drexel University (Philadelphia, PA)