Preview - iArmory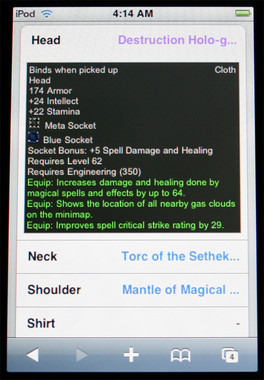 I'm sure that there are plenty of you out there that have been sucked into World of Warcraft just as I have. One of the more useful tools released by Blizzard for the game is the WoW Armory. There you can look up characters, guilds and item info, which can come in handy. I don't know if you've ever tried to browse the Armory on your iPhone or iPod Touch, but it's really not that fun. Thankfully, someone has been hard at work making this tool more iPhone-friendly.
The regular Armory takes a long time to load on an iPhone (even if you're on a WiFi connection) and certain features like hovering over items to see their specs don't work. Instead, you have to click on them and wait for another page to load. After trying this only once, I decided that it really wasn't worth the effort.
I recently heard that someone was working on their own Armory web app for the iPhone, and signed up for their alpha testing group. They were kind enough to let me in, and I've been playing with the currently release for a little while, and I thought I'd share my thoughts.
First thing you'll notice with iArmory is that you lose a lot of the flashy graphics, which while it might not be quite as pleasing to the eye, it makes for much quicker loading times. Once you've looked up your character, you are quickly greeted with just about every stat you'd be looking for in the Armory. To cut down on load times, it doesn't automatically show your items. However, a quick tap of your finger fixes that.
Once you have your items displayed, you can then tap on any of their names to show a full description of it. Again, this all loads rather fast (over a WiFi connection), which makes things much easier than using the official site. There are still a bunch of features that are going to be added, but this is certainly something I wouldn't mind using if someone had a question about my gear or stats when I'm out and about, away from my PC.
iArmory is currently only in alpha testing, and is invite-only. However, if you want to keep up to date on the latest info, you can check out SaladFork's blog here.