Pretec i-Disk Tango grabs world's fastest flash drive title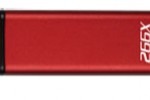 A Taiwanese company called Pretec has announced what it claims to be the world's fastest USB flash drive known as the i-Disk Tango 266X. The performance claims for the little flash drive are impressive. The maximum theoretical speed of the USB 2.0 specification is 60MB/sec, and we all know those maximum speeds are rarely achieved.
The Pretech i-Disk Tango 266x flash drive has a read speed of 40MB/s and a wire speed of 30MB/s. Pretec claims that those numbers are 30% to 100% faster than the average high-speed USB drive today. The drive is available in 8GB to 128GB capacities making it one of the highest capacity drives available.
Inside the drive is MLC NAND saving the buyer money compared to flash drives using SLC NAND technology. Pretec also offers Magic Chamber software that offers anti-copy features for the flash drive to protect data stored on it from theft. Pricing and availability are unknown at this time.