Precision M2300 - Dell's first 14-inch workstation laptop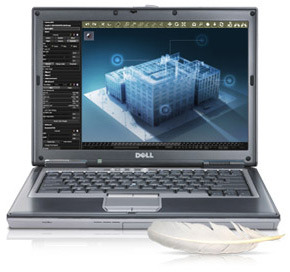 Dell introduces its new mobile workstation notebook, the Precision M2300. It is the first 14-inch workstation class laptop from Dell. The Dell Precision M2300 uses Santa Rosa platform that includes Intel's PM965 chipset. The M2300 is powered by Intel Core 2 Duo CPU with clock speed ranging from 2.0Ghz up to 2.6Ghz. As for graphics, it uses NVIDIA Quadro FX 360M dedicated video card with 128MB of ram.
Consumers have the options to have up to 200 harddrive or a 32GB SSD. The Precision M2300 features a modular bay that allows additional parts including optical drive, a secondary 6-cell battery, and an additional 80GB HDD.
The screen itself sports a resolution of 1440 x 900 pixels. Dell also offers optional built-in mobile broadband EVDO Rev. A modem for Verizon. Connectivity includes Gigabit Ethernet and 56k modem. The Dell Precision well equipped for expandability; it has a PC card sot, four USB ports, and one firewire port. The notebook weighs 5lbs with a standard 6-cell battery. It comes with Windows Vista or Windows XP. The Precision M2300 is available now Dell's website and pricing starts from $1599.
Dell Unveils Precision M2300 14.1″ Mobile Workstation [via laptoping]