We've talked about the Facebook Home software that's coming to Google Play on April 12 several times already. We already know what Facebook Home will look like and what features it will bring to the mix. If you missed our previous coverage, you can learn all the major details of Facebook Home here.
UPDATE: It appears that the leaked builds have been shut down on the server side – Facebook must have seen what was going on and kicked the plug out. You'll have to wait until the 12th or find some other way in, too bad!
Once you know all of the details for Facebook Home, if you can't live without it, a pre-release version of the smartphone software has been leaked. The leaked build was apparently pulled from a pre-release HTC First ROM. If you download the available APKs, you need to keep in mind that indications are that the software is buggy and incomplete.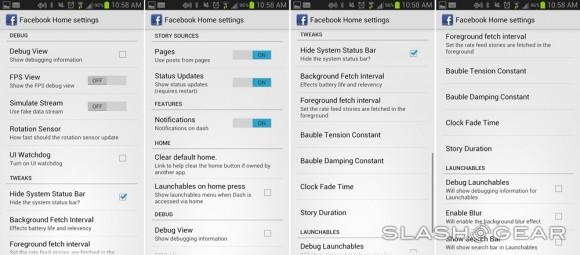 The Chat Heads feature is said to be non-working in the leaked version of the software. However, that could be due to some Facebook backend that's not activated at this time and won't go live until the April 12 official launch. Still, if you have an Android device laying around and want to give the software a try, there are three APKs available for you to download.
The three APKs include the main Facebook app, the SMS messenger app known as orca, and the home/launcher shell known as home. You'll have to install the three APKs yourself, and as with installing any unofficial software, you run the risk of bricking your device. If you're able to install this and play with it, be sure and let us know what you think.
[via Modaco]