Pre-PhotoKina Leak : Leica 50mm F0.95 Noctilux ASPH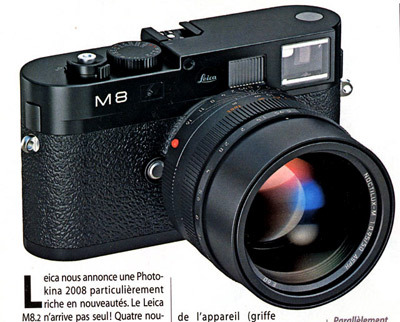 Take about fast lenses and paper thin Depth Of Field! An ad leak from a French photography magazine-Chasseur d'images has revealed three ultra fast lenses from Leica. The German finest glass maker is more likely to update the legendary Leica 50mm F1.0 M Noctilux at the upcoming Photokina with a new 50mm F0.95 Noctilux ASPH. An F-stop on a par with the Canon 60s's vintage 50mm F0.95. If the DOF gets any narrower, you will not be able to pin down the focusing point.
Also, landscape and street-shooter should be pleased with the widest and fastest Summilux 21mm 1.4 to date. Two other lenses are M Summilux 24/1.4 and M Elmar 24 f/3.8. The German's digital SLR system is still light years behind the Japanese in term of ISO noise sensitivity, but they'll make it up with introduction of faster
expensive
glasses.
M Noctilux 50 f/0.95, 8000 euros ($11,000)

M Summilux 21/1.4, 5000 euros ($7,000)

M Summilux 24/1.4, 5000 euros ($7,000)

M Elmar 24 f/3.8, 1800 euros ($7,000)