PRADA Phone 3.0 by LG Review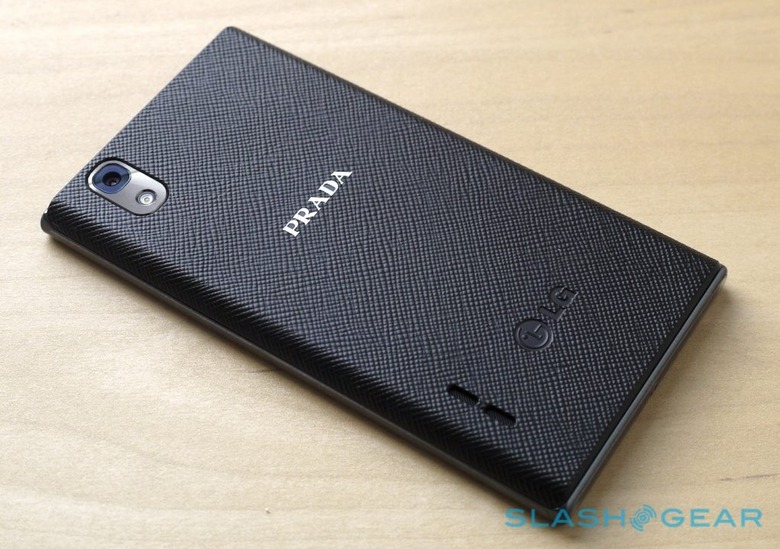 Are you a trend-setter, a dedicated follower, or a fashion disaster? That's the question we've been asking of the PRADA Phone 3.0 by LG, the phone company's third attempt at a handset suitable for the catwalk, and the first to legitimately fall under the smartphone banner. Running Android with a custom UI in Anna Wintour's favorite color scheme, the new PRADA handset is hoping to appeal to fashionistas and geeks in equal measure, but is it truly bespoke, merely off the peg, or a thrift-store special? Read on for the SlashGear review.
Hardware
Mention PRADA and distinctive design is not far behind: the fashion house has a reputation for sex appeal and unusual cuts in its clothing lines, and translating that to technology is a challenge. LG has opted for the slick, contemporary feel of a PRADA accessory – think man-purse or watch – and so the third-gen phone gets sharp edges, slices of metal and leather-style finish.
Note we say leather-style: the textured back panel of the PRADA Phone 3.0 is indeed plastic molded to look and, to a minor extent, feel like hide. LG tells us that's because real leather could warp or be otherwise marred in daily use, though leather wallets (or indeed cows) don't seem to necessarily suffer such a fate. The end result is something that looks far better than it feels, which is a black mark against a luxury device.
PRADA Phone 3.0 by LG video review:
[vms 790e73f0de32e5c8c179]
The rest of the phone is more successful, though style often trumps usability. The top and bottom edges are finished with metal end-caps, the upper end having a microUSB port hidden by a sliding door, a power/lock button, 3.5mm headphone jack and, unusually placed, the camera shortcut. Volume buttons are on the left edge, and there are four touch-sensitive keys – menu, home, back and search; each invisible until backlit – below the screen, together with a 1.3-megapixel camera above it.
It's not a small phone, a lengthy 127.5mm long and 69mm wide, though at 8.5mm thick it's reasonably slim. The 138g weight lends it a pleasing degree of heft and the curved edges make for a handset that's comfortable to grip. Whether it's actually any more beautiful in its design than, say, the recent HTC One series is a matter of taste; we prefer LG's overall sturdiness to the plasticky Galaxy S II, but the glass and aluminum of the iPhone 4S are arguably more premium in their overall feel than LG's combination of metal and plastic.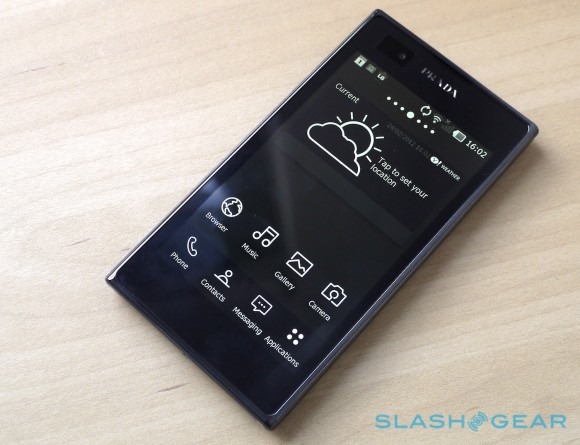 The broad, long dimensions are put to good use with a 4.3-inch TFT LCD display, the panel itself using LG's so-called Nova Plus technology for extra powerful backlighting. In fact, the screen can push out 800 nits of brightness, meaning outdoor visibility is much improved. Unfortunately, while LG focused on the brightness it apparently forgot about the pixels, and the PRADA Phone 3.0 makes do with a mere WVGA resolution. 800 x 480 may have been top-flight 12-18 months ago, but with qHD commonplace and even 720p increasingly on offer, it's definitely showing its age today.
End result is a screen that's clear and sometimes even too bright, but which is also pixelated and lacking in the smoothness we'd expect from a flagship. More than that, it's simply wasteful of the space on offer: you can't, say, take advantage of the size by viewing full webpages at minimal zoom, since you need to pinch in closer for the text to be legible.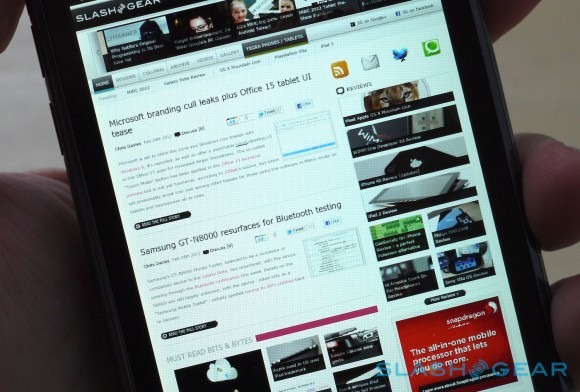 Inside, LG has opted for a dual-core 1GHz TI OMAP4430 processor, paired with 1GB of RAM and 8GB of storage space. There's quadband GSM/EDGE and triband UMTS/WCDMA, along with WiFi a/b/g/n, Bluetooth 3.0+HS and NFC; the microUSB port also supports MHL-HDMI with the appropriate adapter. LG actually offers a matching PRADA HDMI dongle, though any cable that meets the MHL standard will work just as well.
Software and Performance
Try to get a supermodel to eat Gingerbread and you'll likely be faced with a blank expression, but that's just what LG expects us to stomach with the third-gen PRADA Phone. Ice Cream Sandwich may have been around for some time, but LG tells us that holding off on the PRADA Phone's launch until the Android 4.0 software was ready would've left it hitting the market too late for comfort.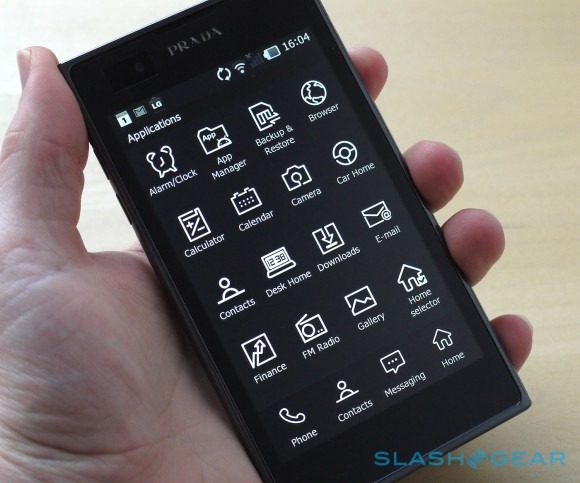 The end result is a new handset running an old OS, and while LG certainly isn't the only culprit for that, we're not giving the firm a pass simply because it took some time to make the PRADA Phone look distinctive. A custom PRADA skin sits on top of Gingerbread, redressing the icons in a pared-back and monochrome way, while the rest of the chrome loses its color too.
Generally, it looks good, certainly unusual among the over-saturated likes of Sense and TouchWiz. There are a few glitches along the way, however. Google's own Android apps, like the Market and Gmail, come with their own icons by default, though you can change them to one of LG's custom PRADA icons instead (there are even special Market and Gmail icons to choose from, which leaves us wondering if the default graphics are something Google insists upon from its OEMs).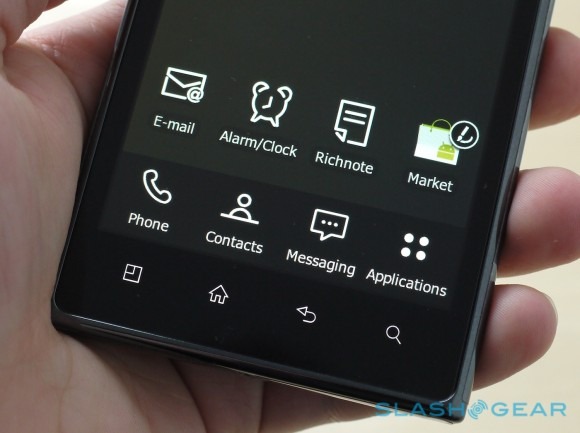 Even once you change those, however, you're likely to end up with a mixture of native PRADA iconography and third-party graphics that don't fit the scheme. Exactly how jarring that is depends on personal taste, but it was enough to prompt us to hide any colorful shortcuts from the homescreen and try to make do with LG's exclusive PRADA-finished widgets – for time and weather – instead.
Performance from the dual-core chip was comfortable, though most fashion-centric buyers are unlikely to be putting the OMAP4430 through its full paces. We had no problems across most apps, with Gmail opening briskly despite a full inbox – though it's the old, Gingerbread version of the app, not the much-improved Ice Cream Sandwich version – and third-party games ran with no lag. The outlier was the browser, which could sometimes stumble when viewing full pages. LG has made some customizations of its own, such as a new browser control bar and a reworked tab switcher that can show pages either as previews or simply in a list, but the biggest drawbacks are the merely average speed and the WVGA resolution.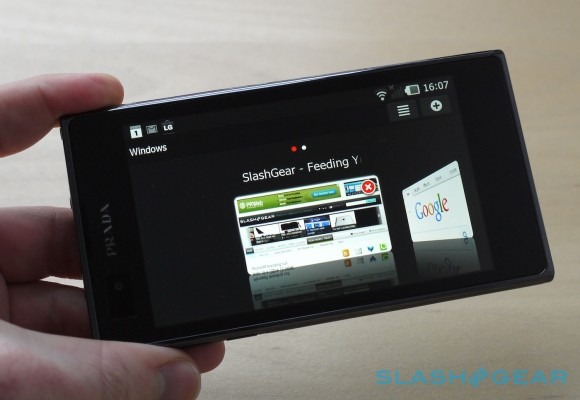 Camera
LG follows the trend and fits an 8-megapixel autofocus camera with LED flash to the PRADA Phone 3.0, capable of 1080p HD video recording too. The UI has been customized somewhat – it's still, unsurprisingly, monochrome – bringing shortcuts for flipping between front and rear cameras, zooming, contrast adjustments, flash and other settings to a strip on the left of the screen, with the shutter release and still/video toggle on the right, along with a shortcut to the gallery.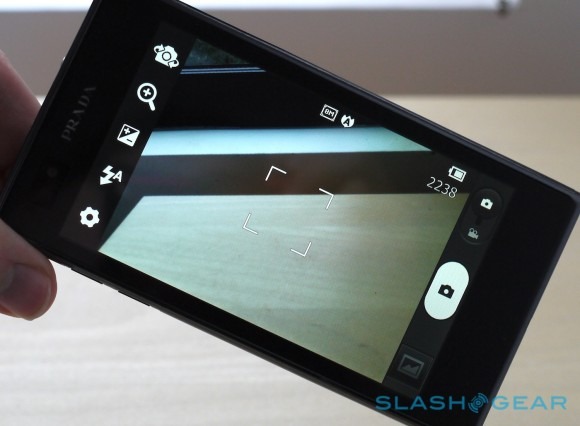 The autofocus is reasonably fast and proved fairly accurate, though close-ups suffer from the absence of a true macro mode. As for the LED flash, like most of its ilk it's a half-measure for dealing with low light scenes at best; its range is relatively short, and even with it turned on we found night images were unimpressive. Similarly odd is the placement of the camera shortcut, on the top of the handset and so on the edge when holding the PRADA Phone 3.0 in landscape orientation. It proved all too easy to introduce shake when trying to press it, and we quickly reverted to using the on-screen button.
As for the shots themselves, when treated to lashings of natural light the PRADA Phone 3.0 is capable of some bright, accurate colors. As soon as the light levels begin to drop, however, things get murky and uninspiring, introducing more grain than we'd like to see.
Video, meanwhile, is recorded in up to 1080p at 30fps. Unfortunately the PRADA Phone 3.0 only records with fixed-focus, rather than allowing you to re-focus throughout recording, as per the best smartphones we've seen, or at least set the focus at the start, which would at least be preferable. Clips show the same intolerance for low-light conditions, though provided with a bright enough day they're strong enough for big-screen viewing. Some crunchiness in faster pans is offset by good clarity when the frame is stable.
LG preloads its SmartShare DLNA app for media streaming, without demanding you have an LG TV since DLNA is a universal standard. Meanwhile there's also HDMI output, though you'll require a microUSB MHL adapter.
Phone and Battery
A microphone studs each end of the PRADA Phone, and the result is decent audio performance in calls with LG employing capable noise-cancellation. We had no problems hearing, or being heard by, others in our test calls, even when surrounded by not inconsiderable background noise.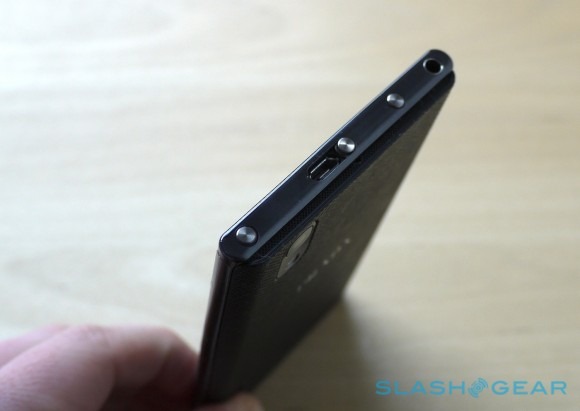 As for battery life, LG is coy on making runtime estimates from the 1,540 mAh battery, but we managed a full day of use with push-email turned on and a mixture of the usual photography, browsing, a few minutes of GPS use with Google Maps, and some music and video playback. If you're planning to use the PRADA Phone more for its designer credentials than its Android abilities, notching down server checks from push email to merely periodic updates might stretch you out well into the second day of use from a single charge. Everyone else – particularly if they want to do any gaming, or have the NOVA display brightness ramped up high – will be charging overnight, as with most modern smartphones.
Wrap-Up
Fashion is fickle. Spring/Summer's must-have is passé in six months time; that gives the PRADA Phone 3.0 four "seasons" to endure over the average two-year contract. Still, the speed of smartphone turnover is arguably even more rapid: LG's NOVA display may be bright, for instance, but it's a long way from the 720p of rival devices from HTC, Samsung and others.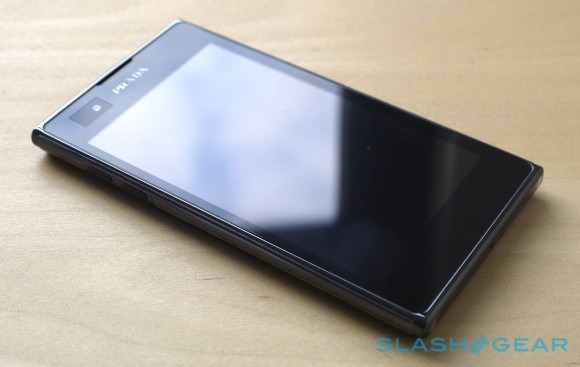 Fashionistas drawn in by the PRADA branding will find a serviceable, if not outstanding, handset in this LG, something with the label cachet to match their bag, sunglasses and wallet. They may find the photos they take in dimly-lit, exclusive nightclubs don't do a particularly great job of proving which celebrities they partied with, however.
Those who see smartphone first and brand later, meanwhile, have some more compromises to balance. The PRADA Phone has a bright screen but at the cost of pixels; its UI is distinctive but it's on top of old Android. It takes superlatives to challenge the top tier of handsets on any given day, and here they're in short supply. The PRADA Phone 3.0 by LG may be shiny and alluring this season, but it's no investment piece.
Thanks to Clove for the loan of the PRADA Phone.