PowerShot TX1 - Digital Camera in Camcoder Form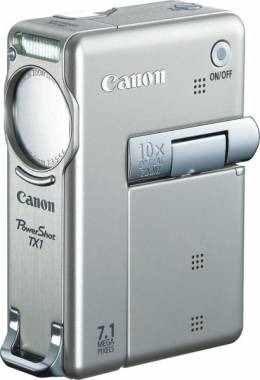 It's nice to see some big changes on PowerShot lineup as Canon announces the PowerShot TX1. Its chassis looks more like a mini camcorder rather than a still image camera. A big improvement on TX1 compared to other PowerShot is its video capturing capabilities. The TX1 could capture videos at 30fps with High-Definition 720p in Widescreen format (16:9). Aside from HD video recording, it also support up to 1280 X 720 pixels resolutions and 60fps in mode.
The TX1 sports an F3.5-5.6 10x optical zoom lens, 1.8" LCD display with 115,000 pixels resolution, and expansion slot that supports Secure Digital or MultiMediaCards such as the new SDHC.
The TX1 is bundled with only 16MB MultimediaCard (Not much really) and it will be priced at $499. No information on availability yet.
Canon: camcorder-like PowerShot TX1 [via imaging-resource]