Powermat Wireless Car Charger Available Later This Year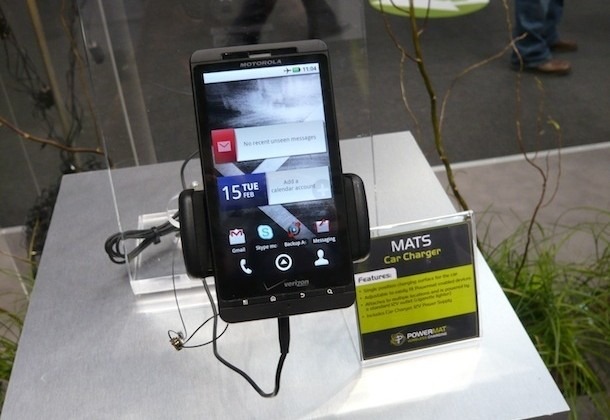 Powermat is releasing a windshield-mounted, wireless car charger later this year, according to CNET. The charger can adjust to fit any of the phone types that Powermat supports, so it could be great for cars with multiple drivers, or drivers with multiple phones, since people will not need to keep multiple car chargers in the car.
It does plug into the cigarette lighter, so it doesn' t look all that different from a standard car charging system, but since the charger mounts on the windshield, it puts the phone more at eye level for easier access to navigation apps. For every smartphone you want to charge, you will need to purchase a Powermat Battery Door separately ($19-$29).
Powermat will be releasing other wireless charging products for the home and office in 2011, such as a rechargeable backup battery and a rechargeable travel mat. They are also marketing a line of Powermat integrated furniture, like tables, that we may see in airports or cafes (Starbucks?). The wireless car charger is expected to be released in the third quarter of 2011, and will sell for $59.
[via CNET]