Powermat launches PMM-PT100 foldable charging mat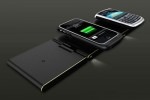 Wireless charging has become a very big deal over the last few months. I know many people who don't want to have to deal with plugging in wires when they want to charge the mobile phone or other devices. The WildCharge system has been around for a while now and today marks the launch of a new product called the Powermat that can charge multiple devices at once.
The Portable Mat is a fold out device that has a place to sit up to three mobile phones to charge. Each phone requires a special case or an adapter to charge. The mat also has a single USB port allowing the user to charge a USB device at the same time. A universal power supply allows the mat to work anywhere in the world and the system includes a Universal Powercube with eight tips. However, tips for the iPhone, Blackberry, and Sony devices are not included.
Powermat Receivers are the cases that allow the devices to get power from the mat and are offered for Blackberry, iPhone, iPods, Nintendo DS, and a universal receiver has USB tips and more. The Powermat will sell for $99.99 at Best Buy and Target and the specific receivers sell for $29.99 to $39.99.