PowerLine AV2 2000 Gigabit Passthrough starter kit adds an outlet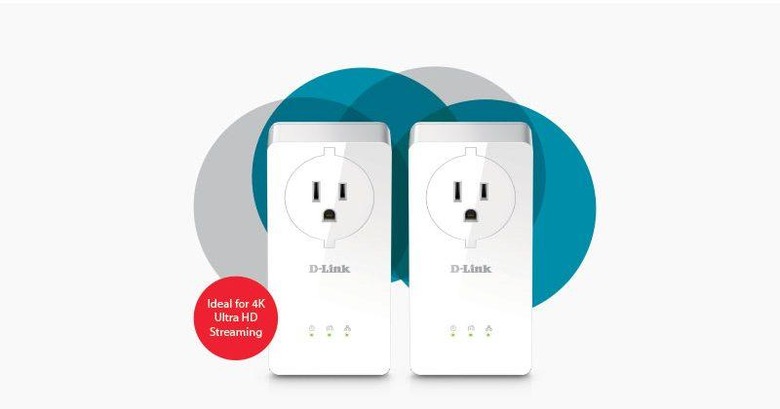 WiFi doesn't always work when it comes to getting connectivity for all your computers and gadgets around your home. The problem is that some areas can be hard to reach or unreachable depending on interferences in and around the home or business. In instances where WiFi isn't cutting it for some reason, a good alternative is power line networking and D-Link has a new PowerLine AV2 2000 Gigabit Passthrough Starter Kit that is good for up to 2000Mbps speeds.
The downside to most power line devices is that they are so bulky they end up blocking the entire outlet. Considering you are likely using the power line device where you need to plug in your computer, this is far from ideal. D-Link's new device uses HomePlug AV2 technology meaning it has an integrated pass through power outlet. You can plug the power line adapter into the wall, and then plug your PC or other device into that outlet.
"The great thing about PowerLine is that it makes it so users no longer have to base where they place important devices, such as Smart TVs or gaming consoles, on where they can get a reliable connection from their router," said Oscar Reyes, associate vice president of marketing, D-Link Systems, Inc. "The new PowerLine AV2 2000 Gigabit Passthrough Starter Kit offers a simple, affordable and discrete solution by transforming every electrical outlet in the home into a potential network connection, making even the hardest to reach areas viable for networking activities."
The network adapter also has MIMO technology for enhanced coverage and the passthrough socket has a noise filter. If you need a large power line network, up to 16 of the devices can be used in total. Power saving mode reduces power use by up to 85% when not in use. The new device is also backward compatible with HomePlug AV adapters. The PowerLine AV2 2000 Gigabit Passthrough Starter Kit (DHP-P701AV) sells for $119.99 and is available now.
Update: This article has been amended to reflect correct pricing.
SOURCE: D-Link