Powerful Stealth's mini PC fits in the palm of your hand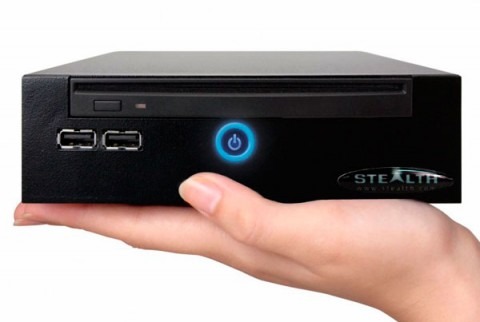 Small form factor PC is popular among HTPC enthusiasts for a good reason; its diminutive system fits in component shelf, offers bleeding edge performance and connectivity without the bulky desktop size. Engineered with the latest blazing fast Intel 64-Bit EMT64 Core 2 Duo Processors, and packed in a small form factor enclosure of 6x6.5-inch, Stealth computer LPC-650 offers yet another mini PC with desktop power in a tiny package that stands 2-inch tall.
The rugged all aluminum chassis measures about the size of an optical drive. Despite its constricted space, the Stealth is loaded with desktop-grade connectivity with Gigabit LAN, Wi-Fi 802.11g, 4-USB 2.0, Serial, 2-VGA Video, Audio and HDMI ports. The board supports 3D GPU with memory expandable up to 4GB, and has a built-in 2.5-inch anti-shock hard drive slot.
A pre-configurated LPC-650 is starting at $1,595 according to Stealth online store, that comes standard with a slim DVD/CD-RW optical drive, 2.4Ghz T8300 processor, 1GB of memory, 5.1 channels audio outputs, Intel GMA X3100 mobile 965 express video controller and 80GB of storage space. Optional devices such as ssd storage or DVD burner are available to order.